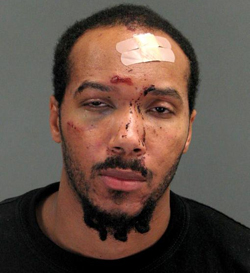 Our friends over at TMZ broke a story early yesterday, reporting that R&B singer Lyfe Jennings (real name: Chester Jennings) led police on a high speed chase and refused to take a DUI test, resulting in his arrest.
Smyrna, Ga. police say they were responding to a gunshots fired call when they spotted Jennings' Corvette hightailing it away from the scene. A chase ensued and Jennings eventually crashed. He was charged with felony weapon possession by a convicted felon and he faces charges of attempting to elude, as well as discharging a firearm near a public highway and refusing to take the sobriety test.

Lyfe was in prison from 1992-2002 after being convicted of arson.
Our question to Lyfe: Why?
Be the first to receive breaking news alerts and more stories like this by subscribing to our mailing list.