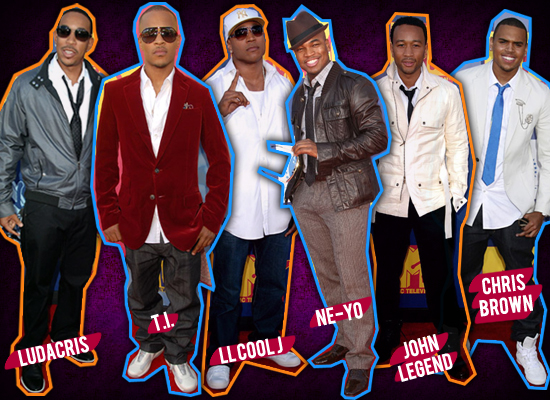 The 2008 Video Music Awards aired Sunday night and yours truly is here to bring you the 411 on all of the hottest (and not so hot) styles worn at the show! There were many hot styles worn to the show, but first and foremost, I gotta show some love to the men, because if you take out the select few that I will talk about later on in the post, just about every guy was dressed to impress! Some of the best dressed male celebs of the night were Ludacris, Ne-Yo, LL Cool J, T.I, John Legend, and Chris Brown. Ludacris looked like Mr. Urban High Fashion wearing Gucci from head to toe (tie included), Ne-Yo also looked good rocking Gucci from head to toe, LL Cool J lost the bedazzled tee's and kept it simple yet classy in Gucci, John Legend really gave an edge to the classic white button up, black tie, and pants look by adding a fly white leather jacket, and Chris Brown decided not to wear his favorite red carpet designer and opted for a Louis Vuitton Jacket, Cassett Jeans, and Dior kicks. Keep reading for more styles from the show.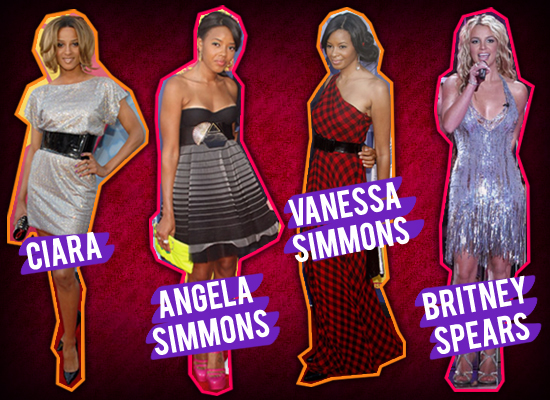 I was hoping that the ladies would represent after seeing how fly most of the guys looked but, they didn't. Some looks that did catch my eyes were from Ciara (minus the hair), Vanessa Simmons, Angela Simmons, and Britney Spears. Ciara wore Christian Louboutin pumps with a silver D&G dress and a very cute Jimmy Choo Tube Clutch, the hair was a little out there but other than that her outfit was very cute! Vanessa Simmons wore wore a beautiful black and red checkerboard dress and Angela Simmons looked fashion forward in her dress matched with hot pink Versace platforms. Brittaney Spears looked fab in a Vintage Atelier Versace dress and Jimmy Choo heels.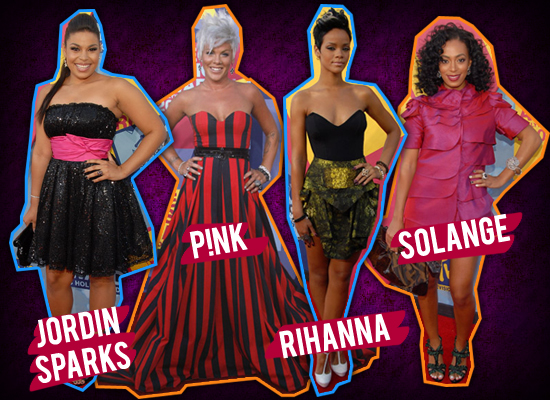 Some more looks I thought were cute came from Jordin Sparks, Pink, Rihanna (not the shoes), and Solange. Jordin Sparks looked very cute in a Betsey Johnson Evening Sequin Café de Paris Dress with Sergio Rossi Heels. I fell in love with her Pantera gold feather ear cuff! I thought Pink's red and black Alexis LaMontange dress fit her style perfectly, the same with Solange. I think if anyone else would have tried to rock her Moshino dress, it just would not have been the same! The dress is very different and because she is know as being the "different" Knowls sister … it fits her. Rihanna rock'd the red carpet as usual wearing a Peter Pilotto Skirt, Patricia Field Bustier, and T-Strap Cesare Paciotti pumps.
Now it's time for my worst dressed picks! Keri Hilson, David Banner, T-Pain, Fat Man Scoop, Lil Wayne, and Lupe Fiasco are all on the top of my "What in the hell were you thinking list!" Keri Hilson's outfit went totally wrong when she paired a royal blue Opening Ceremony Dress with Gucci Babouska studded Boots, but im sure your not surprised. For some reason Keri always finds herself on the worst dress lists for red carpets. I'm not sure what designer David Banner was wearing, but the "nerdy prep" look defiantly does not work for him. The color choice also didn't compliment his complexion. I have no words for Lupe and Wayne, I just wouldn't know where to begin. Although T-Pain did look a hot mess, this was actually an upgrade compared to his past red carpet disasters.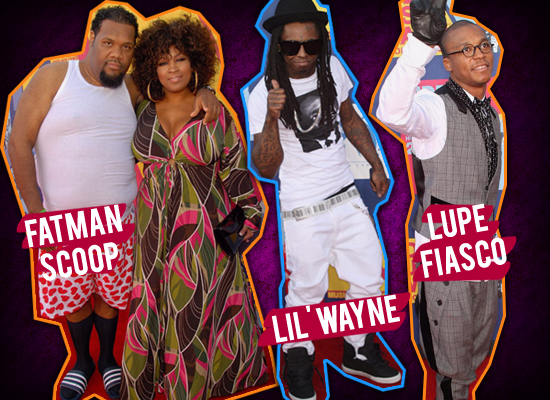 Last but not least we have Fat Man Scoop whose wife looked great, but he opted to rock boxers and an undershirt. I know he was probably attempting to plug his TV show but you just don't wear pajamas to an award show, that's just … tacky. What do you guys think? Who are your picks for best and worst dressed?
Be the first to receive breaking news alerts and more stories like this by subscribing to our mailing list.