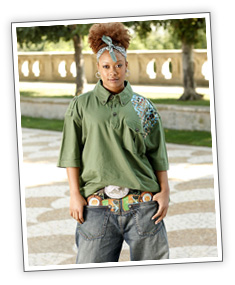 Rapper Da Brat (real name: Shawntae Harris) has been sentenenced to 3 years in prison on charges stemming from an incident in late 2007 in which the female rapper physically assaulted a waitress, who was coincidentally an off-duty Atlanta Falcons football cheerleader, with a bottle of rum at Studio 72, Jermaine Dupri's nightclub in Atlanta. The waitress, Shayla Stevens, sustained a deep cut to the cheek and some swelling on the forehead, and has a permanent scar on her face as a result, officials said.
Harris pleaded guilty to aggravated assault in DeKalb County, and Superior Court Judge Gail Flake sentenced the rapper to 3 years behind bars, 7 years probation, and 200 hours of community service, in addition to completion of substance abuse treatment, mental evaluation and anger management classes.
When people go to jail for long periods of of time you always have to warn them and tell them to be safe for "obvious" reasons. But I don't think Mr. Harris has that problem. I think the person we should give a heads up to is his cellmate! Watch your back, homie!
Be the first to receive breaking news alerts and more stories like this by subscribing to our mailing list.