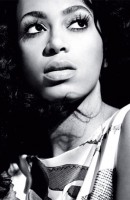 I knew it would not be long before young music starlet Solange Knowles (aka Solange or Solo) got the chance to scholar in her own right with the new album appropriately entitled SoL-Angel and the Hadley St. Dreams (Music World Ent./Geffen). Featured guest appearances on this project, both composition and production, include Bama Boyz, Bilal, Mark Ronson, and The Neptunes to name just a few.
Hadley Dreams is a jazzy tune composed of soul and blues to last a lifetime; to give you a general idea, some of Hadley Dream's tracks can cite old inspiration from Diana and The Supremes, Marvin Gaye, and Jimmy Jam & Terry Lewis as far as production. Overall, Hadley Dreams is a bluesy, harmonic, melancholy — yet "When all is said and done, move on with stride"-type of record.
I think Solange has grown — not only as a singer — but also as a songwriter, it really shows, especially with the album Hadley Dreams; with sounds spouting from the 70s/80s, this album is like a groovy gem! I think Solange flourishes eclectically with this entire project and I am just so amazed of the talent spewing from this artist creatively as a whole.
My recommended track listens would have to be "T.O.N.Y.", which is definite single material, "Would've Been the One", "6'O Clock Blues", "Dancing in the Dark", "Valentines Day", and the melodic "Cosmic Journey".
The album, Sol-Angel and the Hadley St. Dreams (Music World Ent./Geffen) will be available in stores August 26th and will include the Billboard Hot R&B/Hip-Hop Songs chart-topping hit "I Decided" and "Sandcastle Disco". Click Here To Listen To Sol-Angel and the Hadley St. Dreams!
Solange's official site, MySpace, Blog, YouTube.
Be the first to receive breaking news alerts and more stories like this by subscribing to our mailing list.