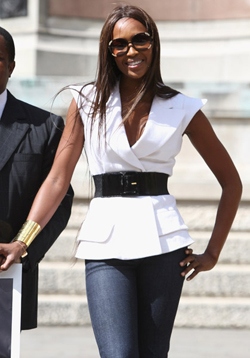 NAOMI CAMPBELL TRIES TO SKIP OUT ON HOTEL BILL » The Ritz Carlton hotel in Moscow, Russia wants supermodel Naomi Campbell to pay up to the tune of $400 for allegedly ruining some silk sheets in a room she was staying in last week. According to SF Gate, when Nay-Nay and her "billionaire lover" Vladislav Doronin left, cleaning staff went through the room and found holes burned into its silk bed sheets. But of course her rep came to her defense claiming that the allegations were not true.
"She didn't have candles on the sheets. She did not smoke in the hotel room. It is completely untrue," said her spokesperson.
C'mon, $400 bucks? That may seem a bit much to folks like me and you, but to a millionaire supermodel that's chump change! Just pay the people so they can shut up… More headlines from your favorite celebrities when you continue reading.
ROMEO PICKS COLLEGE BASKETBALL OVER FILM ROLE » Rapper/actor Romeo has reportedly passed up on the opportunity to star in a film so that he can focus 100% of his time on his freshman year in college. The young entrepreneur will be attending and playing basketball USC (University of Southern California) in the fall.
According to a press release from an outlet called "Hollywood Movie Report," the actor was supposed to star in "Sweetwater," a biopic about the first African-American player signed by the NBA. But the release stated that "he could not appear in a film related to basketball and remain eligible to play for his college team due to NCAA regulations."
Sunset pictures, the production company behind the film, says that they fully support Romeo's decision and has plans on working with him after he completes college in 2012.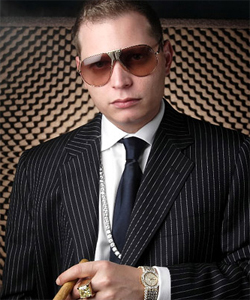 SCOTT STORCH'S MIAMI MANSION UNDERGOING FORECLOSURE » How is that a person can be responsible for so many hit records, and have so much money, but have nothing to show for it? Well just ask Scott Storch how he did it! Word on the sidewalk is that the hit-maker is on the verge of losing his $10 million mansion to SunTrust. According to the Palm Beach Post, Storch reportedly took out two loans with SunTrust worth a combined total of $7.75 million to purchase the house, and now the bank is foreclosing on it because he has not made payments in several months, despite borrowing close to 200 g's from close friends.
In addition to possibly losing his home, the guy has a warrant out for his arrest for not paying child support. Kids, just because you make millions doesn't mean you have to spend ALL of it on a damn house! Not to mention the jewelry, the cars, the clothes, and the hoes. After you go through all of that, and you stop making the money … yeah, you're gonna end up broke, in debt, and running from the law … just like Mr. Storch. Did he not learn from MC Hammer???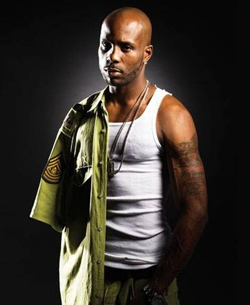 DMX PLEADS "NOT GUILTY" TO IDENTITY THEFT » This DMX guy is a character, I swear. It has been reported that the cracked out rapper decided to use yesterday's court appearance in Phoenix as an opportunity to plug an upcoming album that no one probably even cares about. After pleading not guilty to felony charges of theft and identity theft, he left the hearing and rapped: "If you ever fall down, get back up," he rapped. "Drop something, stop fretting, pick that … back up, stand for something or fall for everything, wait for the right pitch or miss with every swing." The 37-year-old rapper, real name: Earl Simmons, is due to appear in court again on August 12th to face charges of drug possession and cruelty to animals, stemming from an incident in May of this year. Somebody just needs to lock his ass in jail and throw away the key. He's apparently a danger to himself and the people surrounding him.
Be the first to receive breaking news alerts and more stories like this by subscribing to our mailing list.