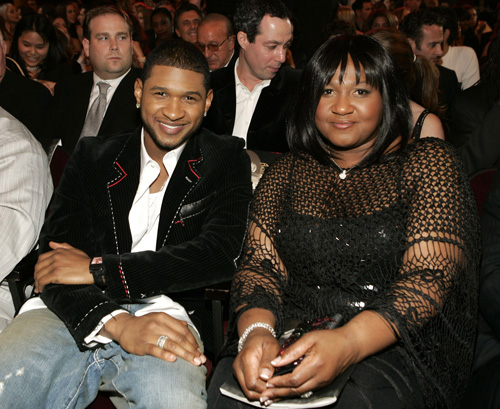 USHER CONSINDERING RE-HIRING HIS MOM AS HIS MANAGER » Word on the sidewalk is that R&B singer Usher is having a hard time coping with the fact that his new album, Here I Stand, didn't do as well as he had expected it to. So now he's considering hiring his mom back as his manager. If you remember, back here in 2007 – around Mother's Day, Usher had decided it was time to retire his mother from her duties as his manager, something she'd been doing since forever (15 years to be exact).
Now all of a sudden he wants mommy back because his album tanked. According to the NY Daily News, he's blaming his new manager, Benny Medina, for the lack of success of his new album. Even though the CD debuted at #1 on the Billboard album charts, it only sold about 433,000 copies in its opening week. His Confessions album, released in 2004, also debuted at #1, but sold 1.1 million copies when it debuted. And its been over a month since Here I Stand was released, and so far the album has sold less than 800,000 copies.
A source tells the New York Daily News, "Usher was livid. He threatened to fire everyone. People have been telling Usher to listen to his mother. Nobody knows how to sell him better than she does. Usher can be stubborn. But he may be ready (to re-hire his mother)."
That's what his cocky ass gets for trying to be all extra and get rid of the person who's responsible for his success.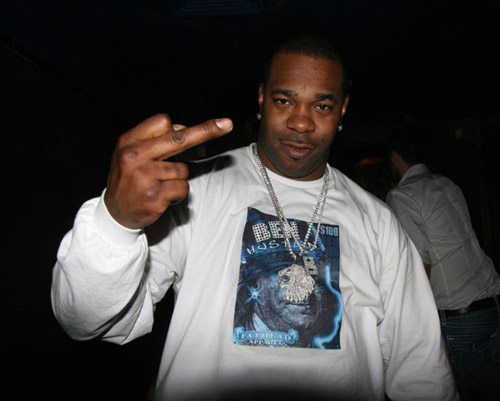 BUSTA RHYMES DISMISSED FROM INTERSCOPE RECORDS » Rapper Busta Rhymes is now officially a part of the "my label dropped my ass" crew. Details of what went down behind the scenes haven't been released yet, but rumors suggest that the rapper and Interscope's CEO Jimmy Lovine got into a heated argument, which ended in Busta Rhymes leaving the label. The label has yet to confirm the split, but reps say that a formal statement will be released soon.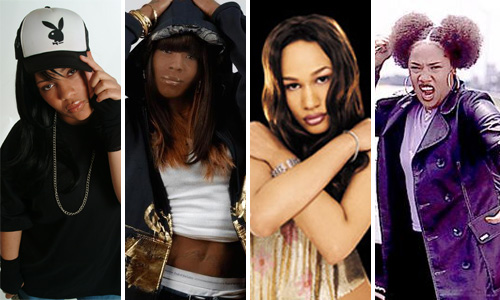 4 FEMALE RAPPERS TO UNITE TO FORM 'FEM MOVEMENT' » According to All Hip Hop, four female rappers are coming together to create a movement they're calling "FEM" (acronym for Females Earning Money). Babs Bunny, Lady Luck, Amil, and the Lady of Rage are attempting to replenish the female rap scene with the help of Ed Lover (former Yo! MTV Raps host) and Uneek (former female rapper).
"Females don't come together enough and we need to show unity and cohesiveness," Uneek said. "Men do it all the time and now it's our time to stand up, stand together and make some money. FEM gives these talented women an opportunity to come together as a movement to show the power that we have when we work as a team."
Despite their recent absences in the game, the ladies are definitely not new to the rap scene.
"None of us are amateurs," Babs, former member of Da Band, was quoted as saying. "We are all very talented and we have all worked with major artists in the industry. Rage with Dr. Dre and Snoop, Amil with Jay-Z, Luck with Def Jam and EPMD and myself with Diddy. But at the same time we all still have something to prove."
FEM's first mixtape is said to be hosted by DJ Doo Wop and is already in the works. After the mixtape drops, the ladies plan on going on tour and working on an album.
Be the first to receive breaking news alerts and more stories like this by subscribing to our mailing list.