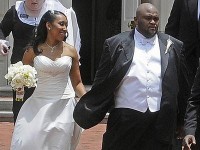 CLICK FOR LARGER IMAGE
RUBEN STUDDARD MARRIES GIRLFRIEND » Ruben Studdard may be a "free agent" right now as far as his music career is concerned, but that didn't stop the 29-year-old American Idol winner from tying the knot with fiancé Surata Zuri McCants. The couple exchanged vows in front of friends and family last Friday at Canterbury United Methodist Church in Birmingham, Alabama. Studdard had 20 groomsmen by his side. The two met back in 2006 at a CD signing at a Wal-Mart in Atlanta. Struck by her beauty, the singer followed her to the toy aisle and proceeded to ask for her number.
Congrats to the happy couple!
PARIS BENNETT PREGNANT; DUE IN OCTOBER » Here's some more American Idol alumni news for ya! Former AI finalist Paris Bennett is pregnant and expecting a baby girl in October. The singer, currently 19, will be 20 years old when she gives birth. Here's what Paris' mom, Jamecia Bennett, had to say:
"I'm proud of how she did it. I was 16 when I got pregnant," Jamecia told the Star-Tribune. "[The baby's father] chooses not to be in the public eye," she told the paper. "I respect that."
Jamecia also confirmed that Paris and her current boyfriend are indeed engaged to be married. No word on when the wedding will be.
PHOTO: WIRE IMAGE
JILL SCOTT ENGAGED TO BE MARRIED » R&B singer Jill Scott announced her engagement to her drummer/boyfriend, Jon Roberts, to concert-goers at New York's Carnegie Hall a couple of weeks ago (Sat. Jun 28th). Jill was halfway into her set singing her heart-felt song, "He Loves Me," when Jon presented her with a kiss and a big bouquet of flowers. Jill then turned to the crowd and announced the couples' wedding plans, and was met with cheers and applause. This news comes one year after Jill's divorce from DJ Lyzell Williams. The two were married for 5 years.
Be the first to receive breaking news alerts and more stories like this by subscribing to our mailing list.