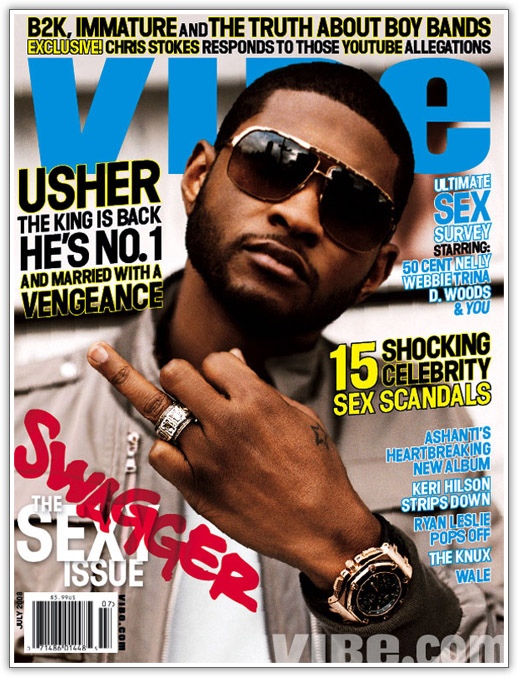 Usher covers the new July 2008 issue of Vibe Magazine, it's also known as the Sexy Swagger Issue. In this new issue Usher talks about everything from firing his mom, being married and his new found 'swag'. Check out the outtakes from this new issue below. Continue reading for excerpts from this issue.
USHER TALKS ABOUT FIRING HIS MOTHER »
"I love my mother — she's the only one I have," he said, pausing for a moment before continuing. "I decided to not fire, not get rid of, but to give [my mother] the ultimate compliment — to retire her to be a full-time grandmother. My mother and I decided to change her situation, together. There was a conversation. I didn't write her a letter or pink-slip her."
USHER TALKS MARRIAGE »
"Am I so much of a bad guy because I decided to get married? Am I so much of a bad guy [because once I got in the situation], I decided to stand for something, build a foundation, and think about my future?" he asked. "As a man, you would respect me for not turning my back on it. … It can never be bad to have a foundation as a man — a black man — in a time when women are dying for men. Women have started to become lovers of each other as a result of not having enough men. Are you not studying the stories? Wake up! Black love is a good thing."
USHER TALKS ABOUT HIS NEW SWAGGER »
"The swagger I possess now definitely comes from my wife," he continued. "And my son completes me. He changes my perspective on what life is, and what matters.
USHER TALKS ABOUT THE CHALLENGE OF BEING A CELEB AND A FATHER »
"It's not easy for anyone to create hit after hit," he said. "It gets harder because I don't want to be [in the studio]. I want to be in the house. These are the days of my son's life, these first three years. I want to be there. The challenge is having it all."
Be the first to receive breaking news alerts and more stories like this by subscribing to our mailing list.