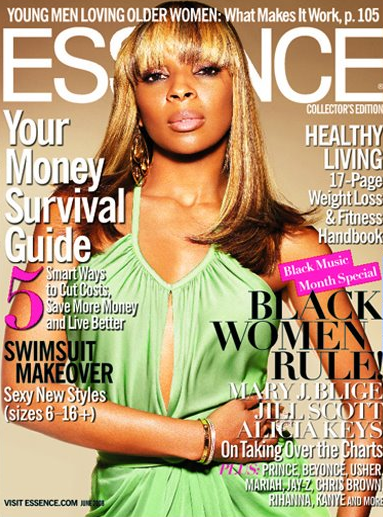 Alicia Keys, Jill Scott, and Mary J. Blige cover Essence Magazine for their annual "Black Music Month" issue. Each collector's edition cover has the caption "Black Women Rule!" on it. In the issue all three ladies talk to Essence Editor Regina R. Robertson about how they've managed to stay relevant for so long in their careers as well as their success and longevity. Keep reading to see all three covers and to read some of the interview
Essence: One thing you all have in common is that you each had a debut album that was a phenomenal success. How do you feel when you hear those songs now?

Mary J. Blige: It's been about six months since I've listened to What's the 411? I was in Japan working out, and when I heard it, I could definitely feel my youth, but I could also hear that I've always had an old soul. When I think back to that time, I remember that I was singing to escape. I understand that some people are stuck in that place, but I firmly believe that if you don't evolve and grow, you will die.

Essence: From the outside looking in, it seems that success has been yours since day one, but there probably were, and are, disappointments. How do you cope when a project doesn't pan out?

Jill Scott: This is life, and if something doesn't work out, then it wasn't meant to. I feel that there is a divine plan in all things. All I can do is the best I can do, and if it's well received, then, yeah. If not, I hope life will give me an opportunity to try again. Do I challenge myself? Absolutely. But beat myself up? I just can't do it.

Essence: Have you ever regretted folding to pressure from record labels?

Alicia Keys: In the beginning, I didn't understand the concept of boundaries. I wanted to make sure the music was heard, but there's a price you pay for that. I did everything and anything to promote my first album, like flying from New York to Los Angeles and back on the same day, which was a bit excessive.

Essence: Have you figured out the ingredients for the perfect song?

Mary: Yes, but I won't tell. [Laughs] For me, it's about being real and honest. And the lyrics have to be relatable.

Jill: Oh, I wish I knew. I think Ne-Yo knows. I think Carvin Haggins, who does a lot of writing for Musiq Soulchild, has the ingredients, too. My songs are mostly about life experiences, about being human and falling and getting back up. About loving and losing.

Essence: But aren't those the ingredients right there?

Alicia: It's always a bit of a mystery. A song should deal with a widely understood emotion, have a really strong, clear explanation of that emotion and a great melody that makes you want to sing it at the top of your lungs. Then the music should evoke the same feeling as the lyrics. Somewhere within all of that lies the perfect song.
Be the first to receive breaking news alerts and more stories like this by subscribing to our mailing list.