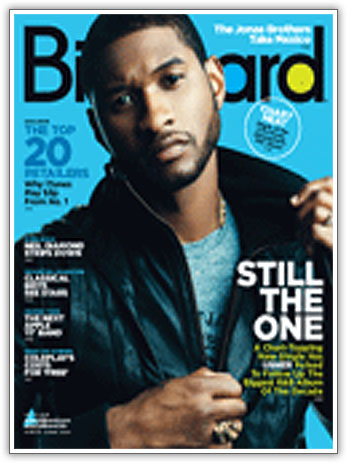 Usher is on the new cover of Billboard Magazine. He talks about his new album, Here I Stand, due in stores June 3rd. This highly anticipated album will be one of his personal albums yet. Usher says:
It's like an autobiographical experience every time you hear an Usher album," he says. "I don't just release records. I don't put things out and just allow them to fly. There's always a story.
Continue reading for a video commentary by Usher
He also talks about his marriage with Tameka Foster-Raymond. He says his relationship is great with his wife and he labels Tameka as his queen:
"The premise of my story is, 'You truly aren't a king until you really find your queen,' and I felt like I found someone who's the foundation for my life," he says. "I married her and had a child with her, so that's going to definitely raise a lot of eyebrows, but I don't really listen to the negativity. I hear it, but at the same time this is my story and you can't tear it down if I don't let you."
Be the first to receive breaking news alerts and more stories like this by subscribing to our mailing list.