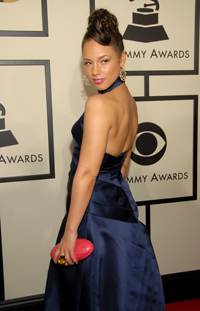 PHOTO: GETTY IMAGES
R&B singer Alicia Keys recently sat down with KIIS-FM's Ryan Seacrest in an attempt to clear the air on her statements that "gangsta rap" was a government "ploy to convince black people to kill each other" and that the government and media were responsible for the drama between slain rappers Tupac and the Notorious B.I.G. Alicia says that her statements were "misinterpreted" and elaborated more on them.
"The term 'gangtsa rap' was so over-sloganized during that time and in so many ways everyday people as well as the government could have really done so much more to obliterate and eradicate the things that were going on in the community at that time that forced the artists to discuss and talk so strongly what they saw- what they lived with every day."

Keys also addressed her theory the rappers' deadly feud was fueled "by the government and the media to stop another great black leader from existing."
"It was just an over-sensationalized situation. We don't know who killed Biggie and Pac. But I do feel like had more communication been done between the two men, that result would have not happened. … All the things that I try to do to inspire people and it rarely gets nearly this much attention. The only thing I regret [about the Blender interview] is a negative spin has been put on something that wasn't my intention."
Be the first to receive breaking news alerts and more stories like this by subscribing to our mailing list.