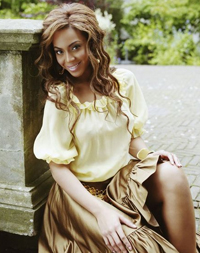 And Music World Music does it again! I swear, that management team has some crazy ideas when it comes to marketing their talent. Most people do radio promos, interviews, and commercials, among other things. But no, not Mathew Knowles and the rest of his crew. They decided to leak a song Beyonce's been working on because they knew that shit will spread like the bird flu in the Middle East. Had they leaked a song from Kelly, Michelle, or Solange … it probably wouldn't have even seen the light of day. Sad … but true.
FROM Beyonceonline.com: Yesterday, "Beautiful Nightmare," a demo I've been working on for possible inclusion on my next album, leaked on some websites. I want to thank all my fans for the positive response to the song, but I want to tell you that this is just a work in progress. It is not my time to put out new music. If you really want to hear some really great music now, you have to support my girls Kelly, Michelle and my sister Solange. Kelly just re-released her album digitally in the US, so check out "Ms. Kelly: Diva Deluxe." Michelle is about to put out the first single, "We Break The Dawn," from her album and Solange's single, "I Decided," is already one of my favorites.
We don't believe you Beyonce, YOU NEED MORE PEOPLE!
Be the first to receive breaking news alerts and more stories like this by subscribing to our mailing list.