We apologize for the slight delay in updates. If you've been checking the site out since our grand re-opening, you probably noticed how long it took for pages to load. Something in the layout was apparently crashing the server, which in turn ended in extremely slow loading times for everyone. We have been working on a solution with our host, and hopefully everything will be fine. Thanks for your patience!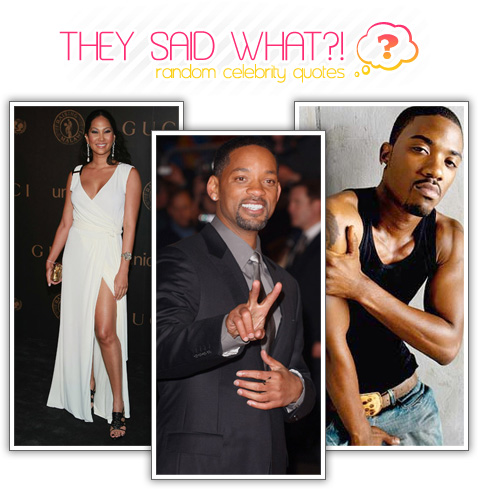 WILL SMITH: "I'M NOT A SCIENTOLOGIST!" »
"You don't have to be Jewish to be a friend of Steven Spielberg. You don't have to be a Muslim to be a friend of Muhammad Ali. And you don't have to be a Scientologist to be a friend of Tom Cruise," actor Will Smith told the New York Daily News Tuesday."I am a Christian," he added. "I am a student of all religions. And I respect all people and all paths."
KIMORA LEE SIMMONS: "I'M NOT PREGNANT!" »
"I'm in the paper every single week – that I had a fight with my ex-husband, or that I was mad at one of his girlfriends, or that I'm pregnant, or that I demand Fiji water," fashion designer Kimora Lee Simmons said Friday at Washington University in St. Louis. "Lies upon lies upon lies … [Reporters] call and ask if I'm pregnant. It all came from Page Six. You guys shouldn't believe it. People believe what they want to believe because it's sensational and it's fun. And they think that's fabulous. I encourage readers to ignore it and seek out the truth."
RAY J: "CHRIS STOKES AND MARQUES HOUSTON ARE GAY!" »
BallerStatus.com: There was a track on [your new CD] where you came at Chris Stokes kind of raw.

Ray J: Fuck that motherfucker. Man, that nigga's a bitch. He's a thief. He tried to take my records and pull me off of television shows and put Marques Houston on the shows, basically replace me. It was a lot of weird things going on over there and I felt like he was trying to dig into my money and try to compromise my career. He and Marques Houston take it in the butt together. I'm real, so I say it how I see it.
Be the first to receive breaking news alerts and more stories like this by subscribing to our mailing list.