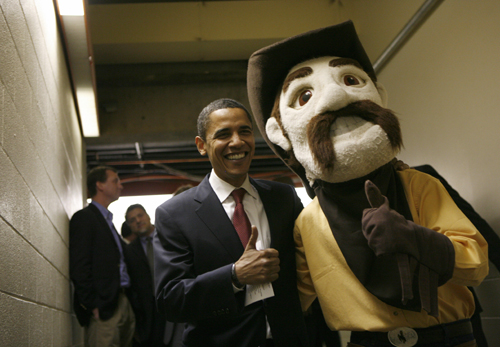 BARACK OBAMA POSES WITH UNIVERSITY OF WYOMING MASCOT PISTOL PETE
PHOTO: EMMANUEL DUNAND FOR GETTY IMAGES
CHEYENNE, Wyoming (CNN) — After losing Democratic contests in the delegate-rich states of Ohio and Texas this week, presidential candidate Sen. Barack Obama won the Wyoming Democratic caucus Saturday. Obama led rival Sen. Hillary Clinton by 61 percent to 38 percent, with all of the precincts reporting. The caucus thrust the state, which has only 12 delegates, into the spotlight because the close race between Obama and Clinton means that every delegate counts.
Although Wyoming typically is not a stop for Democrats looking for delegates to clinch the party's presidential nomination, its numbers could make a difference this year because of the delegate deadlock. With slightly more than 600 delegates left at stake, every remaining contest is crucial to both candidates. The two are separated by fewer than 100 delegates, CNN estimates, with Obama leading Clinton 1,527 to 1,428.
CNN estimates that Obama will win at least seven delegates and Clinton will win at least four, with one delegate still outstanding. Five of Wyoming's 12 delegates will be allocated at the state convention, which will be held Memorial Day in Jackson, but the allocation will be based on caucus results. "We are thrilled with this near split in delegates and are grateful to the people of Wyoming for their support," Clinton's campaign manager, Maggie Williams, said in a statement.
"Although the Obama campaign predicted victory in Wyoming weeks ago, we worked hard to present Sen. Clinton's vision to the caucus-goers, and we thank them for turning out today." On Friday, both senators were in Wyoming to lure last-minute votes. Clinton held town hall meetings in Cheyenne and Casper, and also dispatched former President Clinton to help drum up support. Obama spoke at a town hall meeting in Casper, using the opportunity to criticize Clinton's 2002 vote on the war in Iraq.
"I will bring this war to an end in 2009, so don't be confused … when Senator Clinton is not willing to acknowledge that she voted for war," he said. "I don't want to play politics on this issue, because she doesn't have standing to question my position on this issue."
The state's Democratic governor, Dave Freudenthal, said he has endorsed neither candidate because, in his view, they have mostly neglected "Western issues" like the environment, water and energy. However, he said he was lobbied hard by both campaigns in the weeks leading up to the caucus. Former Gov. Mike Sullivan backed Clinton some time ago. State Democratic Party chief John Millin has endorsed Obama.
advertisement
"Seriously, I never imagined when I took this job that we would see the day when the two front-runners for the Democratic presidential nomination would hold events in Wyoming on the eve of our county caucuses," state Democratic Party spokesman Bill Luckett wrote on the state party's Web site this week.
"I think there's a reasonable chance we'll get our 15 minutes in the national spotlight when the deal goes down on Saturday."
Be the first to receive breaking news alerts and more stories like this by subscribing to our mailing list.