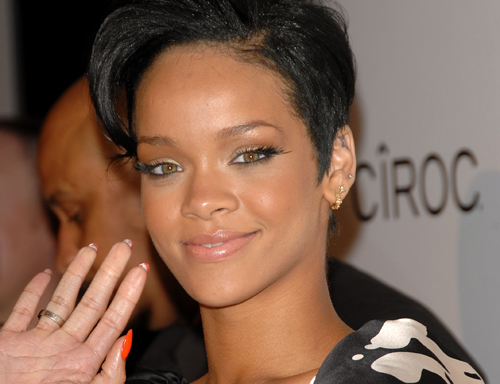 PHOTO: GETTY IMAGES
RIHANNA IN POST-GRAMMY CAR ACCIDENT » Singer Rihanna, who claimed an award for Best Rap/Sung Collaboration at the 50th Annual Grammy Awards, was reported to have been involved in a minor car accident after partying at a Def Jam-sponsored afterparty. This is the same party where she and Chris Brown have been rumored to be getting "cozy" with each other. Early reports suggested that shortly after leaving the party, the singer, popular for her smash hit "Umbrella," was in her car when it was hit from behind by another car. According to a Def Jam spokesperson, fortunately, no one was hurt.
NEWS ON ARETHA FRANKLIN, GARY COLEMAN, AND THE GAME AFTER THE CUT!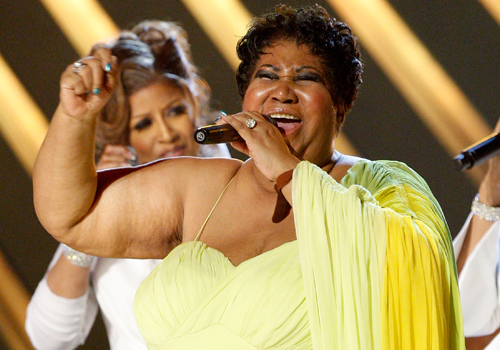 PHOTO: GETTY IMAGES
ARETHA FRANKLIN DIDN'T APPRECIATE BEYONCE CALLING TINA TURNER "THE QUEEN" » The "Queen of Soul," best known as Aretha Franklin is not pleased with Beyonce's intro to Tina Turner at Sunday's Grammy Awards, in which she introduced Tina Turner as "The Queen." Ms. Franklin said the following in a statement released by her publicist:
"I am not sure of whose toes I may have stepped on or whose ego I may have bruised between the Grammy writers and Beyoncé, however I dismissed it as a cheap shot for controversy. In addition to that, I thank the Grammys and the voting academy for my 20th Grammy and love to Beyonce anyway."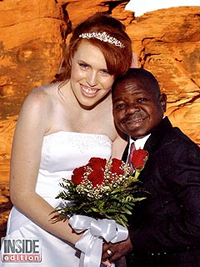 GARY COLEMAN AND SHANNON PRICE
PHOTO: INSIDE EDITION
GARY COLEMAN SECRETELY MARRIED TO LADY IN HER TWENTIES? » 40-year-old Gary Coleman, who we've recently seen selling off some signed merchandise via Ebay, married a lady named Shannon Price, whom he'd met on a movie set back in August 2007. He broke the news exclusively to Inside Edition. According to Coleman, this is his first ever romantic relationship.
"I never got the opportunity to be romantic or feel romantic with anyone," he says. "I wasn't saving myself, she just happened to be the one." The couple's nuptials happened, "on a mountaintop," according to Coleman. "Nobody was around but the minister, preacher, the videographers, the photographer, the helicopter pilot and us. That was all that was there. There was nobody else."
Oh okay, I get it. Makes perfect sense. No one was there, and I mean NO ONE. Except for the minister, the preacher, the rabbi, the bishop, the 3 guys with the video cameras, the 8 paparazzi, the wedding photographer, the helicopter pilots, the weed carriers, and of course, the happy couple. Oh yeah, the lady who made that bangin' potato salad. She was there too. You can't forget about her!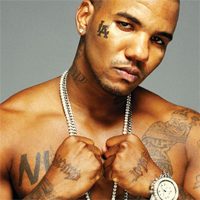 THE GAME SENTENCED TO 60 DAYS IN PRISON! » Rapper The Game was sentenced to spend approximately 2 months behind bars yesterday, after pleading no contest to a felony gun charge of possession of a firearm in a school zone. Remember that basketball game from last year when he brought a gun? Yeah, he's so smart. He's going to jail for 2 months for that. What an idiot … everybody knows how strict gun policies are for schools! According to TMZ and Monsta rap magazine, his 60-day jail sentenced is a far cry from the original 4 month sentence he thought he'd get for the plea deal.
"The crazy part about this is that I've had guns before in my life," he explained. "But this time I didn't have a gun. And because one person said I had a gun and coaxed his homies into saying that I had a gun, I'm in a predicament where I'm asking, do I want to spend another million dollars to fight this trial so who knows what jury's gonna come in and say I'm guilty? Or do I want to save my money, go sit down for four months and accept this felony they're trying to give me for no reason?"
Dumb ass. You'd rather spend two months in jail than shell out $1 million to fight the case. YOU HAVE THE MONEY! That's what the legal system is for. If OJ can get away with murder, I'm sure you can beat a measly little weapons charge. But, you're a "G." Prison "ain't no thang" for you, lol.
Be the first to receive breaking news alerts and more stories like this by subscribing to our mailing list.