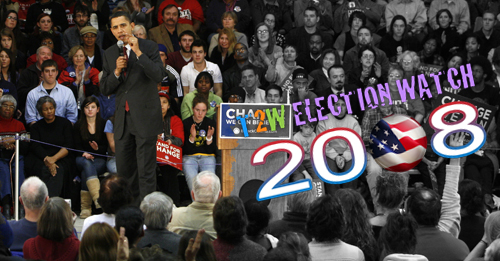 Senator Barack Obama got a major boost Tuesday with victories in the Democratic presidential primaries in Maryland, Virginia and the District of Columbia. Obama remains in a tight race with Senator Hillary Clinton, but the Illinois senator is favored to add to his delegate lead in next Tuesday's contests in Wisconsin and Hawaii. VOA National correspondent Jim Malone reports from Washington. Experts were struck by the margins of the Obama victories on Tuesday, especially in Virginia and Maryland where he won 64 percent and 62 percent of the vote respectively. Obama benefited from strong support from African-Americans and a burning desire for change among many voters like this man in the nation's capital.
"I just want to see change in the world and I think this primary can bring about change, specifically on Iraq and health care," he said. Obama has now won eight contests in a row against Clinton and hopes to build unstoppable momentum with victories in next Tuesday's primary in Wisconsin and a Democratic caucus in Hawaii. "It is about whether we are looking backwards or whether we are marching forward," said Obama. "And when I am the Democratic nominee for president, that will be the choice we have in November."
Be the first to receive breaking news alerts and more stories like this by subscribing to our mailing list.