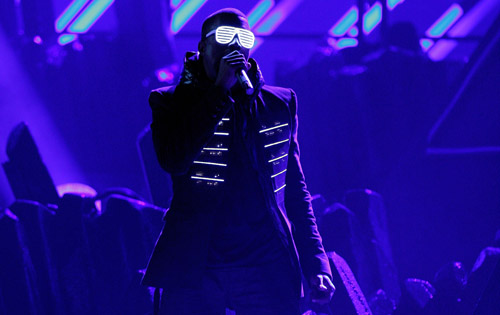 PHOTOS: BECK & WINTER / GETTY IMAGES
Anyone, and I mean ANYONE, who reads this blog knows that I stan all day, and everyday, for Kanye West! And when I tell y'all he SHOWED OUT at the Grammys? Aww man, did he show up and show out!! He came out with one of my favorite songs off of Graduation (hell, I like the whole damn album) – Stronger, and gave the crowd a full and energetic performance in true Kanyeezy fashion. And to add more icing to the cake, his set/costume was amazing. You know his famous "Stronger" shades? Glow-in-the-dark! And he had on a glow-in-the-dark vest! To promote his "Glow-in-the-Dark Tour" I'm guessing? Oh, and speaking of that tour, based on this performance (and really any performance I've seen this kat do) I will be the first momo f*cka in line for some tickets … real talk! But back to the performance. After he showed out on "Stronger" he ran back stage for a second and left Daft Punk do their thing (I think that was them in those suits), and after they did their thing, he came back for a really slowed down and special rendition of "Hey Mama," in memory of his mother, the late Dr. Donda West, who passed away in November of 2007. He, of course, received a standing ovation after this. I kind of took up the whole post talking about his performance, so come with me after the cut to hear what I had to say about his acceptance speech… More photos from the performance are under there too!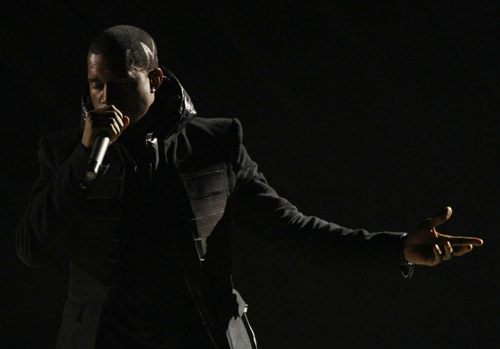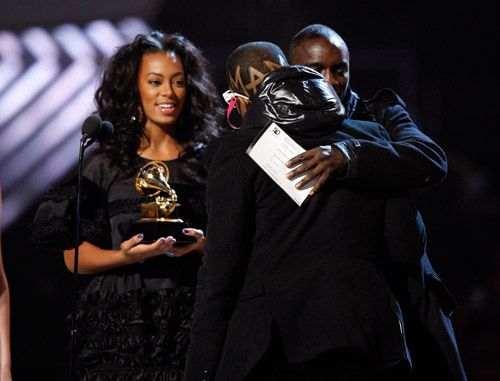 I've always hated the way they try to usher folks off of the stage with the infamous "post-acceptance speech music" or whatever the hell you call it, but when they tried to do it with Kanye West, who won the Grammy for "Best Rap Album" for his album, "Graduation," he just wasn't having it! He put the man/woman/whoever behind the soundboard in check when he told them "It would be in good taste to stop the music now." Basically, when he was giving his speech, you could tell he was getting a little choked up when he was thanking people. So I guess the soundman thought he was taking too long, and played the music, but in my opinion, when he got to the part where he was thanking his mom, that should've been their cue to cut that shit out. But, since they didn't already know to do it themselves, he let them know what was up … and they stopped the music! Get 'em Kanye!
Be the first to receive breaking news alerts and more stories like this by subscribing to our mailing list.