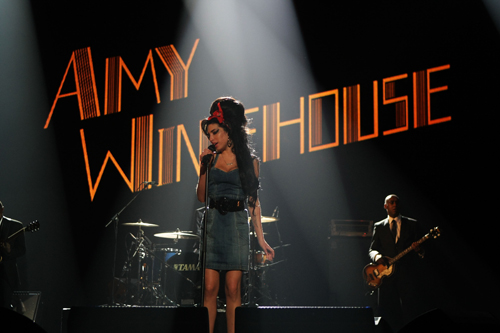 PHOTO: GETTY IMAGES
AFTER BEING DENIED, AMY WINEHOUSE GETS U.S. VISA ANYWAY » The U.S. government has reversed its decision from earlier in the week and will be granting Amy Winehouse a visa for Sunday's Grammy Awards. But the decision came a little too late, so she's going to stick to her plan to perform live via satellite from London.
"Unfortunately, due to the logistics involved and timing complications, Amy will not be coming to the U.S. this weekend to perform at the Grammys in Los Angeles, however she will still be performing via satellite broadcast from London as previously announced this morning. Amy would like to thank all of those people, and in particular the staff involved at the U.S. Embassy in London, who have all worked so hard to expedite her application. She is very sad not to be attending the prestigious awards in person, but wishes to express her heartfelt gratitude to all of those involved in the process," reps for the nominee said in a statement.
SONJA NORWOOD EXPLAINS WHY SHE'S SUING THE KARDASHIANS » "I did not want to commence litigation against the Kardashian family without conducting an exhaustive investigation into the charges and discussing all options, including criminal prosecution, with my family," Sonja Norwood said in a statement released Tuesday. Her first choice first choice was to avoid suing the Kardashians for alleged credit card abuse, but, she says, they gave her no other choice. In the lawsuit, which names Kim Kardashian as well as her siblings Khloe, Kourtney and Robert Jr., Ms. Norwood claims that she only had given authorization for one purchase on the Norwood's American Express credit card. At the time, Kim was a stylist for Brandy, and Brandy's brother. But you may remember her from the infamous sex taped she and Sonja Norwood's son, Ray J, have together.
"After Ray J and Brandy urged me not to file criminal charges because of their prior friendship, I decided to afford the Kardashians an opportunity to resolve this matter without a lawsuit," Norwood said. "When the fraudulent charges were brought to their attention, they apologized profusely, and advised us, through their attorneys, that they would pay the debt in full. However, they have since reneged on that promise. [My] investigation has revealed that the Kardashians used their two stores and other stores that I have never visited to take advantage of me. I very much look forward to having the Kardashians account for their misconduct in a court of law."
PHOTO: SPLASH NEWS
BRITNEY SPEARS RELEASED FROM PSYCHIATRIC WARD A WEEK EARLY » Reports originally said that Britney Spears wouldn't be released until the middle of the month, but in a surprise move, the troubled singer was sprung from the UCLA Medical Center mental ward Wednesday of this week and immediately began driving her new black Mercedes-Benz around Los Angeles, acting like nothing had happened. The 26-year-old Spears was reportedly escorted out of the hospital by a small private security detail. The surprise release comes just one day after Spears alleged her manager, Sam Lufti, drugged her and "threatened to use violence" against her in a court document. Judge Reva Goetz granted Britney a temporary restraining order against Lufti in the latest development in the court case over power of attorney over Spears and her estate.
Be the first to receive breaking news alerts and more stories like this by subscribing to our mailing list.