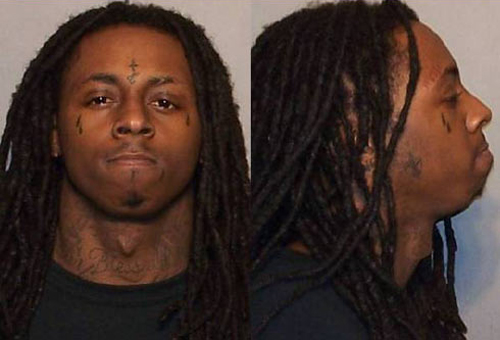 BOOKING PHOTO VIA AP
Lil Wayne was arrested on not one, not even two, but THREE felony drug charges earlier today (January 23rd) after federal agents said they found illegal drugs, including cocaine, on his charter bus at a checkpoint in southwestern Arizona, AP is reporting. Cocaine Weezy? Oh really?? The rapper, whose real name is Dwayne Michael Carter Jr., spent the day at the Yuma County jail before being released, Capt. Eben Bratcher said. After posting more than $10,000 bond, the rapper signed autographs for fans outside a bondsman's office.
James Tilson, a local lawyer retained by Carter, said that his client was not formally charged and that his next court date was scheduled for Friday, January 25th.
"We will find out by January 25th whether or not the [Yuma] county attorney will file charges or not," Tilson said. "He is looking forward to his day in court. That's all I can say right now."
The 25-year-old rapper faces charges of possession of dangerous drugs, narcotics and drug paraphernalia. Weezy's bus was stopped at approximately 11:30 P.M. Tuesday night at a Border Patrol checkpoint near Dateland, Arizona, which is about 78 miles east of Yuma, Capt. Bratcher said. A Border Patrol dog alerted agents to the presence of illegal drugs on the bus, said Drug Enforcement Administration spokeswoman Ramona Sanchez. After they searched the bus, they found nearly 4 ounces of marijuana and just over an ounce of cocaine, as well as drug paraphernalia. DEA agents then arrested Carter, who was traveling with 11 others.
Officials also found a .40-caliber pistol registered to Carter, who has a concealed weapons permit in Florida. Authorities are looking into whether he violated any weapons laws in Arizona. Two other men were arrested with him, and they each face a charge of possession of marijuana.
Please don't tell me one of my favorite rappers is a cokehead. One is already on house arrest 'til God knows when. WTF is up with these fools? Oh, and if you're wondering, something like this has happened before! SMH…
Be the first to receive breaking news alerts and more stories like this by subscribing to our mailing list.