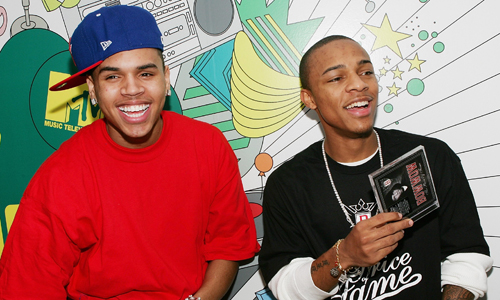 PHOTO: GETTY IMAGES
Earlier this week, a rumor started circulating that Chris Brown and Bow Wow got into a scuffle and it allegedly ended in Bow Wow spitting on Chris. The reason? "Technical difficulties" … as usual. Now, if you remember correctly, not too long ago, Bow Wow threw a temper tantrum that landed him in the hospital because he hurt his hand. That actually turned out to be true, as confirmed by the mini-rapper himself. But according to the first half of "Bowmarion," this latest rumor holds no truth. This is what he told MTV.com:
"Man, listen," Bow said via phone while visiting a mall in Tampa, Florida, where he and Brown performed Monday night. "I just got off the phone with Chris. My mom called me and told me about the rumor. I called him and told him, and he started laughing. We was dying [with laughter]. Anybody who knows me or anybody who's been around me knows I'm not that kind of person," he continued. "I [felt bad] for New York [reality-TV star Tiffany Pollard] when she got spit on during 'Flavor of Love.' A wise man once taught me, the most vicious thing you can do is spit on somebody. It's just a rumor. It's a big rumor. I would never do that. That's not being a man, that's a sissy act."
A sissy act, eh? I'm just gonna leave that alone… Lol
Be the first to receive breaking news alerts and more stories like this by subscribing to our mailing list.