CLICK HERE TO CHECK OUT RIHANNA'S NEW "GUN" TATTOOS!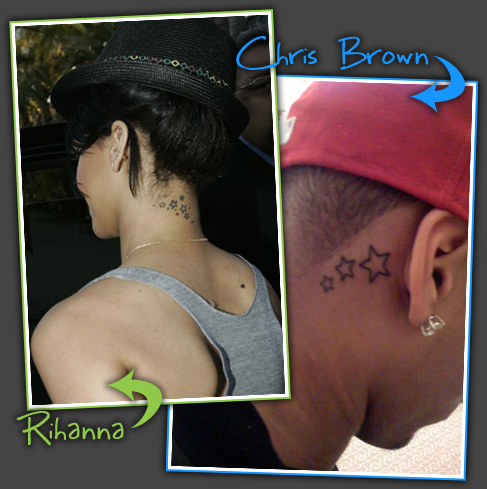 Rumors about Rihanna and Chris Brown dating are old, but that doesn't mean that I can't resurrect them lol. Rihanna's got some new (?) ink on the back of her kneck. But I'm not 100% sure if it's new because with new tattoos, people usually have them bandaged up with a lot of vaseline/grease. But I've never seen it before, so it's definitely new to me. But anyhow, Chris Brown has the same type of tattoo behind his ear. I'm not saying they're dating or anything, because a lot of people have that ugly ass tattoo. I'm just making an … observation. Don't mind me 😉
In other Rihanna/Chris Brown news, the two recently performed the Umbrella Remix together on stage in Nashville the other night, according to Whitney over at Chris Brown Web. Chris Brown, who is currently on tour with Bow Wow, Soulja Boy, and Lil' Mama in the Up Close and Personal Tour, is gearing up for the release of his first ever Live in Concert DVD to be released later on in the year. The DVD was filmed at the Nashville show.
UPDATE: Rihanna's tattoo is old. She got it last September. But it still matches Chris Brown's!
Be the first to receive breaking news alerts and more stories like this by subscribing to our mailing list.