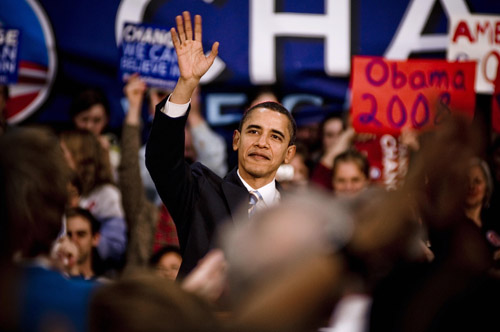 PHOTO: GETTY IMAGES
Bloomberg is reporting that our boy Barack Obama has a 90% chance of taking the win in the New Hampshire Democratic primary on Tuesday.
Odds that the 46-year-old Illinois senator will prevail in tomorrow's vote jumped after he won last week's Iowa Democratic caucuses, while wagers on New York Senator Hillary Clinton, the third-placed finisher in Iowa, tumbled. Online traders say Clinton, 60, has an 8.7 percent of winning in New Hampshire, according to futures contracts at Intrade, a unit of Dublin-based Trade Exchange Network Co. Bettors give former North Carolina Senator John Edwards, who placed second in Iowa, only a 0.3 percent chance of victory in New Hampshire.

Before the Iowa vote, traders gave Obama a 34 percent chance of victory in the New Hampshire primary and a 1-in-4 likelihood of becoming the presidential nominee. That compared with Clinton's odds of 60 percent in New Hampshire and a two-thirds likelihood of gaining the party's presidential nomination. Now, Obama has a 66 percent chance of becoming the Democratic nominee, while Clinton's odds have fallen to 33 percent, according to Trade Exchange, which runs both Intrade and TradeSports.com.

"t looks like Hillary will lose," said Mike Lenhoff, who helps oversee about $36 billion as chief strategist at Brewin Dolphin Securities Ltd. in London. "I am genuinely surprised at the groundswell of support that Obama has received and the crest of popularity he has ridden on." In a USA Today/Gallup poll taken after the results of the Iowa caucuses were reported, Obama and McCain held the advantage with the New Hampshire voters before tomorrow's primary.

Obama has a 13 percentage-point lead over Clinton; three weeks ago, they were tied, according to the poll published today in USA Today. McCain gained four points over rival Romney, who held a seven-point edge in mid-December, while Huckabee was third. The poll surveyed 776 New Hampshire residents who said they are likely to vote in the Republican primary tomorrow and 778 voters who expected to cast ballots in the Democratic primary, the newspaper said. The margin of error was plus or minus 4 percentage points. Markets may be better prognosticators than surveys of public opinions because markets try to determine who will win, according to Justin Wolfers, a professor of business and public policy at the Wharton School of Business at the University of Pennsylvania.

"Research from past elections says political prediction markets are at least as accurate as polls and probably more accurate," said Wolfers. "If you think momentum effects are important, you can predict them today in markets. It's the dynamic aspect that is most important."
South Carolina, get on the ball! Don't listen to what your ministers and preachers are telling you from the pulpit in regards to this election. Let's show Obama we're behind him 100% on January 26th! I guess that marks the end of my "unbiased coverage" of the Democratic race… I had a feeling that wouldn't last long, Lol.
Be the first to receive breaking news alerts and more stories like this by subscribing to our mailing list.