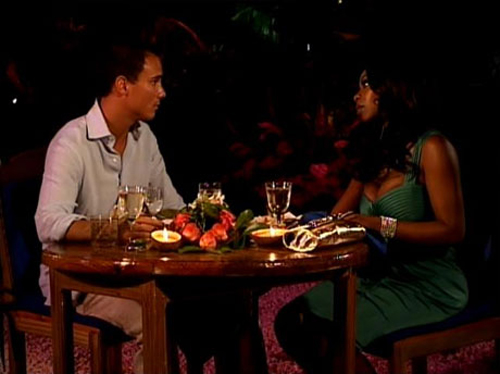 PHOTO:
VH1 BLOG
Tiffany Patterson, Pollard, whatever the hell she's calling herself nowadays, is officially engaged to I Love New York 2 winner Tailor Made, PEOPLE reports. George Weisgerber, a 32-year-old retail planner from Queens, New York, proposed to New York on the show's finale, but she politely turned him down, saying she wanted to wait 24 months before making any decisions about marriage. "I respected that," Tailor Made told PEOPLE. "I cherish her. She's what I need."
On season 2's reunion show that airs Jan. 6, he proposes to her again and, this time, "she says yes," a source told PEOPLE exclusively. "They are madly in love. They are a great couple." Weisgerber, who was separated while taping the show and is currently finalizing his divorce, admits he "always had a crush" on Pollard, and thought it fate when casting for season two began. "She needs a guy who will treat her right and respects her and values her for who she is, he told PEOPLE recently. "Our personalities complete each other. I cherish her and want to cater to her every need. But I'm not a doormat. We have a good balance."
Well if this is all true, then maybe the loud-mouthed reality star really has found love. So I suppose they'll be no more "I Love New Yorks" … but that doesn't close the door for any more reality shows featuring the two!
Be the first to receive breaking news alerts and more stories like this by subscribing to our mailing list.