JAY-Z & BEYONCE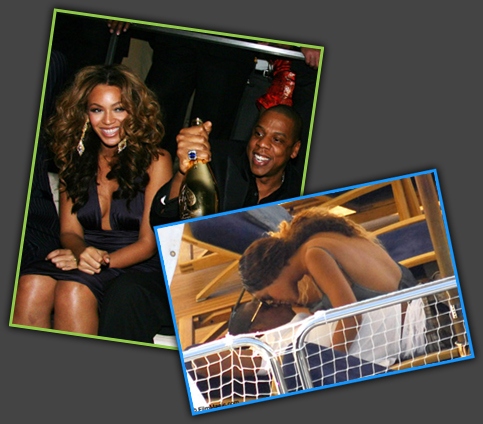 FYI: This list is in no particular order…
2007 is coming to a close, and we here at Think2wice thought it would be the perfect time to highlight some of the greatest moments, people, etc. of the past year! First up, is "Favorite Couples." And you guessed it, Jay-Z and Beyonce are perched at the top of this list! These two cause a stir in the gossip blogs whenever their names are mentioned. It's gotten to the point where we've given them one name … Jayonce. Despite both of their busy schedules, Jayonce still finds the time to spend time with each other, whether it be a sporting event, a week-long vacation, or just having dinner at one of NYC's top restaurants. Recently, rumors sparked of the two being married after people spotted matching tattoos on their ring fingers (IV – "FOURever" ??), but those rumors were immediately shot down by one of Jay-Z's reps. Who knows … they probably are married! Hell, didn't Janet keep her marriage to that guy from the public for like 10 or more years? Anyhow, hate it or love it, Beyonce and Jay-Z are with each other for the long run, as long as they keep their relationship as private as it has been for the past 4 years.
T.I. & TINY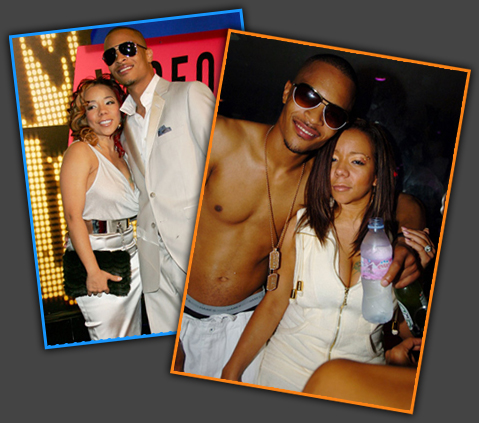 A "Favorite Couples" post could not exist without the presence of Clifford and Tameka. Oh, excuse me … T.I. and Tiny. These two have been off and on for some time now, and a lot of folks like seeing them together. They have a son together, and are rumored to have another one on the way. Earlier in the year, Tameka lost their would-be second child due to an unfortunate miscarriage. Ironically, a few days before this, the two were reported to have separated, but a week or so later … were back together again. No one knows if or when they will get married, but we all know that they genuinely love each other. Tiny even got arrested with her man! Now if that's not a "ride or die chick" I don't know what is. Sadly, we may not see these two together for the next few years. T.I. is currently on house arrest, and it looks like he'll be getting at least 5 years in a Federal prison on weapons charges. But that's only speculation. Only time will tell what the future holds for T.I. & Tiny.
NELLY & ASHANTI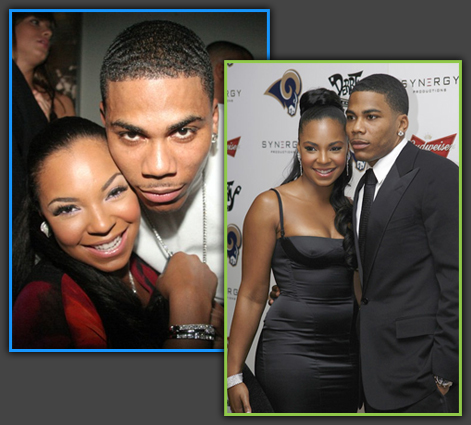 I don't know if they are in denial, don't want us to know about them, or really are "just friends," but Nelly and Ashanti sure do spend a lot of time together. Their whereabouts aren't publicized like the afore mentioned, but never-the-less, these two make a great couple. There are (old) rumors circulating that their relationship is nothing more than a big ol' publicity stunt, but you know out-of-hand some rumors get. There have been a few occasions where the two have been spotted out and about with each other on vacation, shopping at a jewelry store, hanging out in Beverly Hills, and even a few parties/random events. No one is sure when they'll announce their relationship, but then again, Jay-Z and Beyonce never did. It's just something everyone "knew" after a while. And so far, no one "knows 100%" whether Ashanti and Nelly are dating. But they are pretty close =)
NAS & KELIS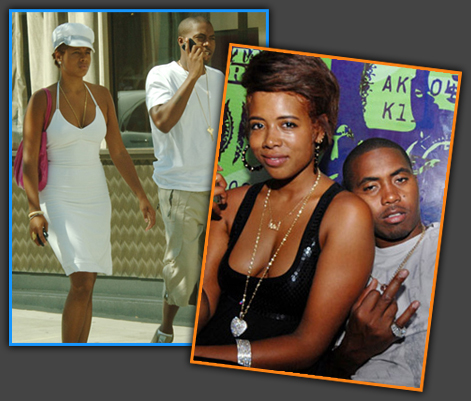 I like to call this couple the "other Jay-Z and Beyonce." Nas has a pretty big hip-hop career and Kelis was the first girl to scream on a track. Since their marriage in January 2005, these two have made their rounds in celebrity gossip. Nas and Kelis first hooked up in 2002 at Diddy's VMA after-party. They got engaged Christmas 2002 at Kelis' mom's home and shortly after that had an X-Rated duet together ("In Public" on Kelis' Tasty album). Even though we all love this couple, they tend to keep themselves out of the spotlight, and for good reason. Couples in the spotlight tend to get burned by that kind of exposure and end up splitting. But their love is so genuine that I don't see that happening anytime soon. In the future you'll be able to check them out in their reality TV show (not sure when that will be hitting television), and come February 2008 Nas will be all over the media when he releases his new album, "Nigger."
50 CENT & CIARA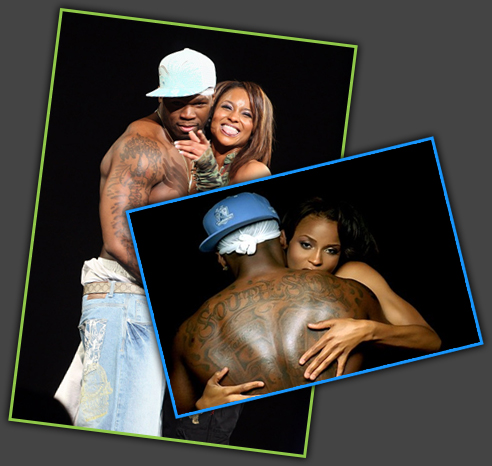 Here's another couple who wants to keep the media out of their business. Their rumored relationship dates back to earlier this year (June to be exact), and was "confirmed" (I guess you can say that) in July with the "I Can't Leave 'Em Alone" video. If you ask either of the two, they say that they're "just friends," but as you know … we don't believe them, they need more people! Every girl wants a bad boy, and Ciara definitely picked the baddest of the bad. A big step-up – if you wanna call it that – from her previous "boyfriend" Bow Wow.
USHER & … TAMEKA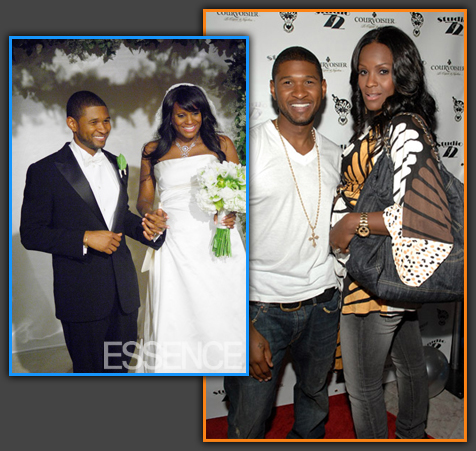 Let me preface this by stating that I don't condone this relationship what-so-ever, but we couldn't leave the newlyweds out of the mix. Usher and Tameka have known each other for a while. She upgraded from stylist to wife in a period of a little more than a year. For a while it seemed as though Usher wasn't planning to marry anyone after his big break-up with Rozonda "Chilli" Thomas of TLC, but I guess we were all proved wrong. The year 2007 was crazy when it came to Usher and Tameka news. First, it was the surprise engagement. Then, there was the "rumor" (later confirmed) that Mama Patton (Usher's mom) didn't like Tameka. Next up were the allegations of her being a fraud and all of that jazz, then there came the pregnancy, and the shot-gun, but slightly lavish wedding that took place in Atlanta, even though the two were originally to be married in a huuuge NY ceremony the week before. And last, but not least, was the birth of their first child together, Usher Raymond V. Supposedly Usher's releasing an album sometime next year, so there's no telling what 2008 will hold for the odd couple.
KANYE WEST & ALEXIS PHIFER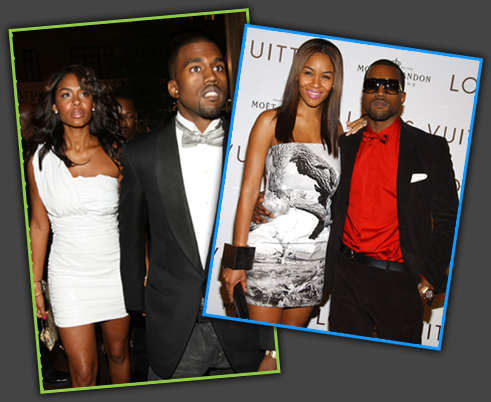 The fashionisto, and the fashionista. A lot of people, including the late Dr. Donda West, like to see these two together. Earlier this year, this is what she had to say about her future daughter-in-law.
I think she's a very outstanding young woman. She's quite talented, very intelligent, very creative. Very sweet, thoughtful, generous. I can't think of one negative thing I would say about her, even in private! The best thing that I love about her is that she loves my son. You can't beat that.
It has been reported that in an effort to fulfill one of his mom's last wishes, Kanye plans on marrying Alexis very soon. And you know when they do, it's going to make big headlines.
KIMORA LEE SIMMONS & DJIMON HONSOU
Since her split from hip-hop mogul and Phat Farm CEO Russell Simmons, Ms. Baby Phat aka Kimora Lee Simmons has been seen on numerous occassions with model/actor Djimon Honsou. And apparently Russell has moved on too. Djimon was recently named the "Most Beautiful Black Man Alive" and Kimora has her hands tied with her daughters and her fashion line. These two are fairly new as a couple, so we should have more to talk about a year from now … if they're still together.
LALA & CARMELO ANTHONY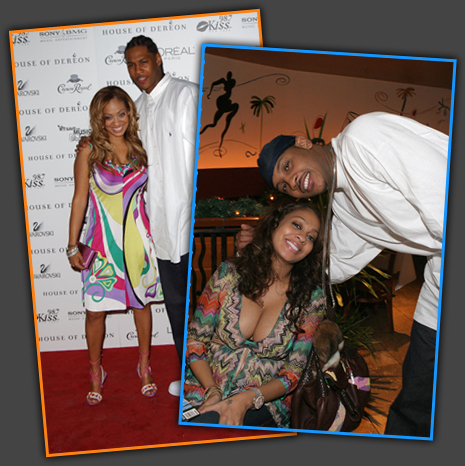 MTV personality LaLa Vazquez and Denver Nuggets star Carmelo Anthony have been dating for a while (a long while) and have been engaged for nearly 2 years. He proposed to her New Years Eve 2005, and since then, the two have brought a baby boy into the world. Kiyan Anthony was born in March of this year. When are they going to get married, and what the hell are they waiting for? Maybe they'll see wedding bells in 2008 … or maybe not. We'll just have to wait and see.
Be the first to receive breaking news alerts and more stories like this by subscribing to our mailing list.