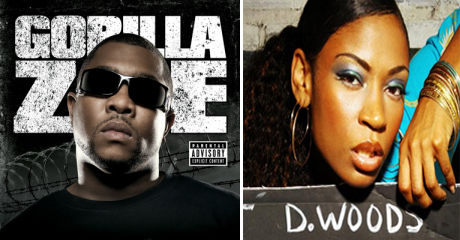 Platinum recording artist D.WOODS of pop/R&B act DANITY KANE and Bad Boy/Atlantic label mate GORILLA ZOE teamed up to bring you the hottest rap/R&B collab of the winter with "You Don't Know Me" off his recent debut album "Welcome to the Zoo." Zoe has hit big on radio with his chart-topping single "Hood Figga" while D.WOODS has been in the studio writing and recording songs for the highly anticipated second album from DANITY KANE of MTV's hit show Making the Band 3 to follow their #1 Billboard charted and certified platinum debut album last fall. Co-written by D.WOODS, "You Don't Know Me" is her first major album collab since the success of Danity Kane, though she is no stranger to songwriting and grinding in the studio to come up with hot hooks and verses. Based in Atlanta, GA in the middle of the vibrant urban music scene D.WOODS has been working her way up as a recording artist and songwriter since her years at Atlanta's famed Tri-Cities Magnet High School for the Visual and Performing Arts. It was there that she and Alonzo Mathis aka GORILLA ZOE first met. Who would have known that only a few years down the road they would be labelmates on Diddy's Bad Boy/Atlantic imprint.
Most recently D.WOODS has been with Danity Kane in New York and Miami shooting the next season of MTV's Making the Band set to premiere January 28th, 2008 at 10pm and in the studio recording the Danity Kane album with mega-hit producers Scott Storch, The Runners, and Bryan Michael Cox. In addition D.WOODS has been working with Lloyd (The inc/Universal) on songs for his next album and the upcoming debut album of her sister, Shanell aka SNL, for her debut album on Ne-Yo's Compound Entertainment label.
D.WOODS continues to make her mark as a musical force and is currently one of entertainment's quickly rising young pop/urban stars. With several television and film projects and her upcoming fitness video "Crunk Abs!" in the pipeline, as well as a second album with Danity Kane to be released in spring 2008, D.WOODS is certainly one young entertainer to watch!
Be the first to receive breaking news alerts and more stories like this by subscribing to our mailing list.