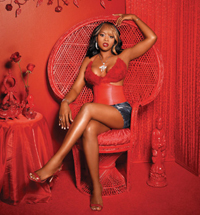 Hip-hop would not be hip-hop without some Grade A "Beef!" Remy Ma recently responded (via the radio) to a few comments Lil Kim made about her.
"That little boy better live me alone, Remy said referring to Lil Kim. "She was saying I'm going at [Remy] hard, she go hard to me so I go hard back. I feel like if that's going at me hard, like seriously, I'm just gonna chill out. That's crazy to me."

"What did she say? 'Put it on my lipstick, I was to be busy being conceited.' Like, how could you be conceited, you don't even like your own face," Remy continued. "What are you talking about? Are you serious? How was I supposed to take that offensive. I don't believe you," stressed Remy. "You don't like your nose, you don't like your cheek , you don't like your chin, you don't like your skin color, you don't like your tits , you don't like your stomach, you don't like your teeth. What are you talking about?" She asked.

"At the end of the day it's funny to me. When I really feel like it's amusing, when I feel like someone's getting at me, then I'll drag them all over the first spot that I see them of course," Remy continued. "But in the meantime, in between time … like this chic has more ghostwriters than Foxy [Brown]. I just feel like right now she's reaching…"
My question is: Who do you guys think would win in a FIST fight?! Remy Ma or BIG's old punching bag Lil Kim?? Leave your response in the comments!! My money goes to Remy. That bitch is GANGSTA!
Be the first to receive breaking news alerts and more stories like this by subscribing to our mailing list.