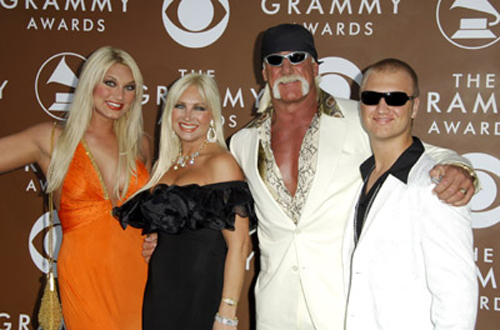 After 24 years of marriage, Linda Bollea (we know her as "Linda Hogan") has apparently filed for divorce. I'm sure most of us who tune in to "Hogan Knows Best" on VH1 knew this was going to come sooner or later, especially after that huge wreck Nick was in. Records show that Linda filed divorce papers last Tuesday in Pinellas County. She has been married to Terry Gene Bollea, more famously known as Hulk Hogan, since 1983 and the couple has two children, Brooke, 19, and Nick, 17.
What's crazy about this whole thing is that a reporter broke the news to Hogan on Friday night, the day after Thanksgiving! He thanked the reporter for the "great information" then called back five minutes later to say:
I'm kind of shocked. You caught me off-guard. My wife has been in California for about three weeks. … Holy smokes. Wow, you just knocked the bottom out of me. … I just pulled over to the side of the road for five minutes to find out what was going on here.
Damn, homie!
Be the first to receive breaking news alerts and more stories like this by subscribing to our mailing list.