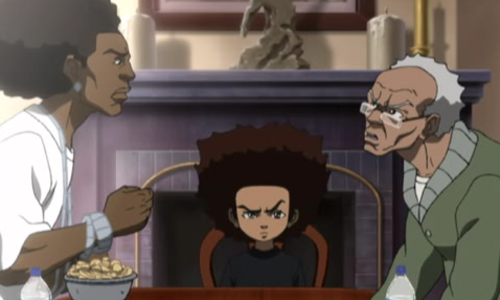 When world renowned rapper Thugnificent moves to Woodcrest with The Lethal Interjection, Granddad becomes annoyed by his new neighbors. Thugnificent then makes a diss video insulting Granddad titled 'Eff Granddad' causing all sorts of problems.
→ Snoop Dogg, Busta Rhymes, Fat Man Scoop, MTV's Sway Calloway, Xzibit, Carl Jones, DeRay Davis, Nate Dogg and 'T' from 106 & Park (LOL, they had Terrence to a 'T')* guest star.
Classic quotes:
"Ain't this a bitch … Who in the hell left the gate open?"
"Nappy-headed hoes…"
"Stop Hatin' an' get money my nigga!"
"Did you just congratulate me for reading?"
"Anybody can see that was a satirical ass beating."
"This mallfocker went to Youtube?"
*Terrence J from 106 and Park was not a guest star.
Be the first to receive breaking news alerts and more stories like this by subscribing to our mailing list.