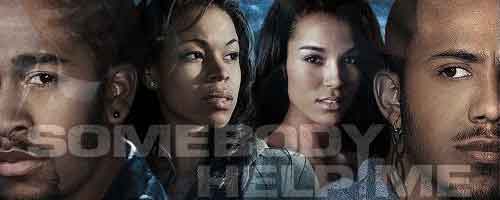 SOMEBODY HELP ME
DVD in stores November 13
CodeBlack Entertainment / Christopher Brian Films
Pre-Order HERE
SYNOPSIS
From the director of YOU GOT SERVED & HOUSE PARTY 4, comes this urban horror/thriller on the order of CABIN FEVER, THE HILLS HAVE EYES, and WRONG TURN. SOMEBODY HELP ME delivers a chill a minute as the story revolves around characters Brendan Young (Marques Houston) and Darryl Jennings (Omarion) as they head off with friends and their respective girlfriends for a weekend stay at a remote cabin in the woods. After the couples settle in and start to enjoy the weekend, things take an eerie turn. On trips into the local town, they start to have strange encounters with some of the townspeople who seem a bit askew. One by one of group ends up missing or dead, while the dwindling group is forced to ban together more and more to figure out who or what is behind the killings. Ultimately, they discover even more than they bargain for in a chilling reveal.
CAST
Omari "Omarion" Grandberry
Alexis Fields
Brooklyn Sudano
Marques Houston
Genre: Thriller
Running Time: 1 hour, 35 minutes
Rating: NR
Be the first to receive breaking news alerts and more stories like this by subscribing to our mailing list.