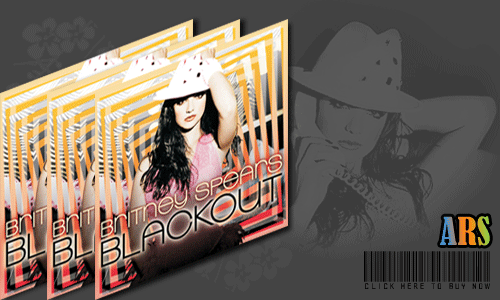 Pop legend Britney Spears returns with her fifth studio LP, Blackout, in stores October 30th – but you can pre-order it via the link (barcode) above or HERE!
I did not want to post any leaked material before, like everyone else, because I was assured they were all incomplete for the simple fact they were not mastered. So I relapsed and was pleasantly surprised after hearing the retail. Britney fans can expect a host of new material added! 😉
Now, on the the album review! I heard a lot of stellar Dance-pop and Club variations — thanks to Danja (love his work), Bloodshy & Avant, Sean Garrett, and The Clutch! Although some of Sean's arrangements are a tad bit questionable (he can not write for crap, I am sorry.) I have not many cons to rant on and on about … I will save that for Cassie's album (KIDDING!). Overall Blackout is FUN and lively! I was nodding and shaking … thank God I do not dance in public! Ha ha, but forreal, the music ultimately moves you in the beginning, then it sort of culminates with Downbeat (that would only be a few songs – rest of the album goes HARD in the club!). In conclusion it all boils down to whether you are a true fan of the Pop superstar — would I recommend it as a solid buy? Of course … I am a Britney Spears fan! 🙂
Forgot to say my personal favorite tracks are "Get Naked (I Got A Plan)," "Freakshow," "Hot As Ice" and "Perfect Lover"!
MY RATING: 10
"Heaven On Earth" • ( FULL )

"Get Naked (I Got A Plan)" • ( FULL )

"Freakshow" • ( FULL )

"Toy Soldier" • ( FULL )
Be the first to receive breaking news alerts and more stories like this by subscribing to our mailing list.