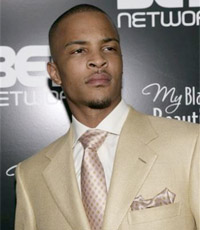 AP PHOTO / MATT SAYLES
T.I. plead not guilty Friday and was once again denied bail and will remain in jail for at least one more week. One request from his team of lawyers was that the judge release the rapper on $2.2 million bond. The judge considered house arrest and that a person stay with him 24/7.
T.I.'s lawyers asked a federal judge Friday to release the rapper on $2.2 million bond and allow him to have monitored home confinement while he awaits trial on weapons charges. Defense attorney Ed Garland proposed putting a person in T.I.'s home 24 hours a day to monitor activities there. U.S. Magistrate Judge Alan Baverman said he will reserve his ruling on the singer's bond request until Oct. 26, when T.I.'s lawyers are expected to present a home monitor who must be approved by the court, pretrial services officials and prosecutors.

T.I., whose real name is Clifford Harris, would also have to submit to electronic monitoring. Only those on a preapproved list of visitors would be able to enter the home. Harris would surrender his passport and his right to drive, and would submit to random searches of the home and random drug screening. Several record company executives, including some from Atlantic Records and Warner Music Group, were seated in the courtroom. Officials said they were prepared to offer signature bond on Harris' behalf in excess of $1 million. Prosecutors countered that because of Harris' criminal history and because he was arrested while allegedly trying to buy machine guns and silencers, he poses a flight risk and danger to the community.

Harris was indicted by a federal grand jury Wednesday on weapons charges, including possession of machine guns. His indictment followed his arrest last Saturday for allegedly possessing unregistered machine guns and silencers and of being a convicted felon in possession of firearms. Harris, 27, faces up to 10 years in prison and a $250,000 fine for each count. [ SOURCE » ]
Be the first to receive breaking news alerts and more stories like this by subscribing to our mailing list.