SHAUNIE: "I WANT TO SAVE OUR MARRIAGE" » Shaquille O'Neal's divorce battle may be postponed, as his wife Shaunie Nelson has filed papers to the court denying that her marriage is irretrievably broken down. The basketball legend filed for divorce last month claiming that his wife had been "secretive about her assets … particularly with respect to certain properties owned or titled in either (her) name alone or in other entities." However, Nelson denies this secrecy stating that she has "nothing to hide." The wife of Shaquille is asking the court to grant her a three-month continuance so that she can attempt to save her marriage and ignore her husband's divorce application. [ ENTERTAINMENTWISE ]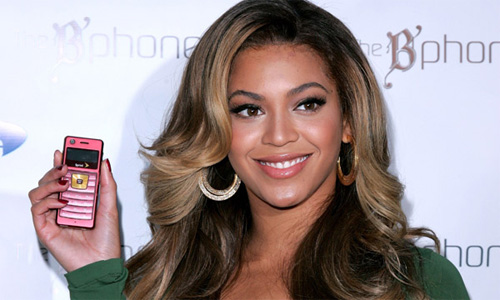 BEYONCE AT THE LAUNCH OF HER NEW "B-PHONE"
PHOTO BY JAMES DEVANEY FOR WIRE IMAGE
INTRODUCING THE "B-PHONE" » Sprint unveiled the B'Phone this morning at the Samsung store in New York's Time Warner Building. The Beyonce-branded version of the UpStage music phone originally introduced earlier this year features gold-and-burgundy colors designed by Beyonce, a Beyonce-themed startup screen and the ability to download exclusive Beyonce photos, videos and a song she recorded as a child.
"When I was 10, I recorded a song called '632-5792' — a phone number. It's a little embarrassing but it's cute. There's a recording of that song on the phone exclusively for my fans," Beyonce told journalists. "I wanted to make sure people got a feel for who I really am. It's only through this phone that you can get this close to my life."
In addition, the B'Phone showcases a dual-sided design, with an MP3 player on one side and a phone on the other. It also provides easy access to Sprint's multimedia content, including Sprint TV and the Sprint Music Store.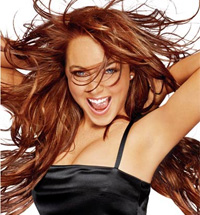 LINDSAY LOHAN: "NO MORE L.A. CLUBBING FOR ME!" » Lindsay Lohan is out of rehab and ready to turn over a new leaf … we hope. Right now she's saying that she is going to keep away from the L.A. club scene and ditch old pals who might drag her back into bad habits. "Going out all the time was very self-destructive," the former party girl told In Touch magazine. "The biggest thing is not being in L.A. and staying away from the nightlife," the 21-year-old actress said. Portions of the interview were posted on the magazine's website today. Lohan entered the Cirque Lodge rehab center in Utah back in August after being busted for drunken driving and cocaine possession. She left the facility a week ago, but may return for some outpatient treatment.
"I hit rock bottom," she told OK! magazine. "Everything in my life came to a point where I had to make a decision." Lohan is set to begin filming "Dare to Love Me" in Los Angeles on Oct. 15, but after that she won't be sticking around the City of Angels. "I plan on returning to Utah so I can stay focused and avoid other distractions," she told OK!. Those distractions include so-called friends who are more interested in partying than in her well-being, she told In Touch. "I have good people in my life now. I am surrounded by people that don't use me and who love me for me," she said. "The people who want to go out and party, that's not what I'm about now." [ READ MORE HERE » ]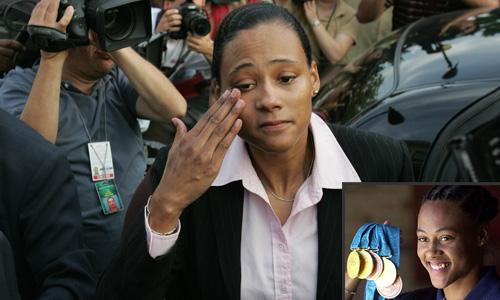 POOR MARION… » Marion Jones surrendered the five medals she won seven years ago at the Sydney Olympics Monday, just days after she admitted using performance-enhancing drugs in U.S. District Court in White Plains. Jones also agreed to a two-year suspension from track and field even though the 31-year-old tainted superstar already announced her retirement after Friday's appearance in court. "She has paid a very high price," said United States Anti-Doping Agency chief executive officer Travis Tygart. "She is looking at jail time and she has lost the glory she won."
The three gold medals and two bronze medals Jones won in 2000 were sent to the United States Anti-Doping Agency yesterday, Tygart said. USADA officials will turn the medals over to United States Olympic officials, which will then return them to the International Olympic Committee. The IOC can strip medals and nullify results eight years after competition. She won gold medals in 2000 in the 100 meters, 200 meters, and 1,600-meter relay, as well as bronze medals in the long jump and 400-meter relay. [ READ MORE HERE » ]