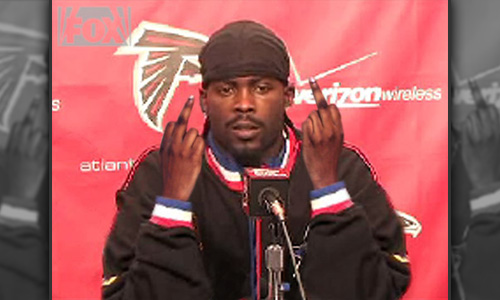 As if losing all credibility and possibly his career wasn't enough, in addition to receiving some jail time (length unknown at the moment), Mr. Michael Vick, who was charged on several counts of "animal cruelty" has to pay a hefty price, to the tune of $20,000,000. Yeah, I could've said $20 million, but I had to add the zeros to add to the effect. No matter how rich you are, $20 million is a lot of damn money!
The disgraced quarterback lost the first round in his financial battle with the Atlanta Falcons when an arbitrator ruled Tuesday that Vick should repay most of the bonus money he got while secretly bankrolling the long-running operation. The case is far from over. The NFL Players Association said it will appeal the ruling by Stephen B. Burbank, a University of Pennsylvania law professor and special master who oversaw last week's arbitration hearing in Philadelphia. The Falcons argued that Vick, who pleaded guilty to federal dogfighting charges, knew he was in violation of the contract when he signed a 10-year, $130 million deal in December 2004. The team said he used proceeds from the contract to fund his illicit activities and sought the repayment of $19,970,000 in bonuses he was paid over the last three years.

Any money the Falcons recover from Vick would be credited to its future salary cap, a huge step in recovering from the loss of the team's franchise player. Atlanta (1-4) is off to a dismal start with Joey Harrington at quarterback. "We are certainly pleased with today's ruling," the Falcons said in a statement. "It is the first step in a process that our club has undertaken in an attempt to recoup significant salary cap space that will allow us to continue to build our football team today and in future years." In a highly technical, nine-page ruling, Burbank said the Falcons were entitled to $3.75 million of the $7.5 million bonus that Vick was paid after signing the deal in 2004, $13.5 million of the $22.5 million in roster, reporting and playing bonuses he was paid in 2005 and 2006, and $2.72 million of the $7 million roster, reporting and playing bonus that he received this year.

THE ASSOCIATED PRESS
Poor guy. And y'all know how frivolous these celebrities are with their money, so I would definitely be surprised if homeboy actually had every cent of the $20 million. Anyhow, he's scheduled to be sentenced on December 10th. How long do you think he'll get? A year? 5 years? 10? 20???
Be the first to receive breaking news alerts and more stories like this by subscribing to our mailing list.