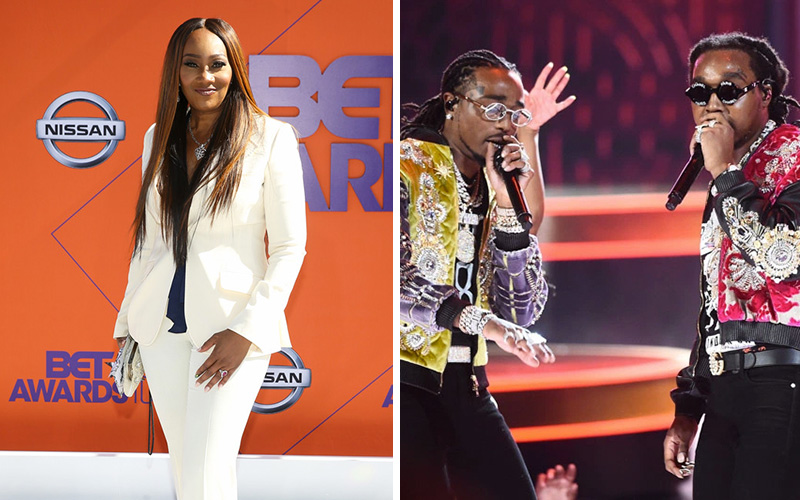 The BET Awards aired live on television Sunday night (Jun. 24) and featured performances from a number of top acts in R&B and Hip-Hop, including J. Cole, Nicki Minaj, Janelle Monae, Snoop Dogg and Migos.
During Migos' performance of their hit single "Stir Fry," the camera panned to the audience and caught Gospel queen Yolanda Adams not only enjoying the performance, but also spitting the lyrics, which, unsurprisingly, had Twitter in shambles.
For what it's worth, "Stir Fry" is an undeniably catchy tune that has been all over the radio for months, but who knew that Gospel's biggest act was out here listening to rap songs about cooking crack? Twitter sure didn't!
Peep the best and funniest responses below:
Y'all got Yolanda Adams out here singing Stir Fry #BETAwards ??? pic.twitter.com/7leXH7p9nF

— Y B N ???? (@realofficialn) June 25, 2018
The fact that Yolanda Adams is singing along to Stir Fry is blowing me?? #BetAwards pic.twitter.com/jrXaD6Kd54

— ce murda? (@_GORGnPetite) June 25, 2018
Bitch y'all seen YOLANDA ADAMS SINGIN "Stir Fry"????…SIS U GOIN TO HELL! @YolandaAdams

— Kiss it better, baby (@YeenEvenKnowIt_) June 25, 2018
Yolanda Adams in the audience rappin Migos.. she going to hell #betawards? ? pic.twitter.com/u1TqlRabYc

— Jeff (@hostalmalure) June 25, 2018
Why does Yolanda Adams know the lyrics to stir fry #BETAwards pic.twitter.com/3v6jxpX0hb

— The Last ? (@JUSLIKEMIKE863) June 25, 2018
Uhm let me find out Yolanda Adams know the words to stir fry ? what's on your radio sis? #betawards pic.twitter.com/zhz3gbodFM

— J.T, II (@Oh_ThatJermaine) June 25, 2018
Anybody else see Yolanda Adams singing Stir Fry in the background???
When you know the Lord but still love Hip Hop?????#BETAwards18

— Heather Lynn (@_heatherlynnnn_) June 25, 2018
Were my eyes deceiving me…was Yolanda Adams rapping along with Migos???? #BETAwards pic.twitter.com/368guplCyR

— My Vote My Voice!? Jenkins (@essayjenkins) June 25, 2018
Yolanda Adams knows all the lyrics to a Migos song? #BETAWARDS pic.twitter.com/EkVTg88SgP

— The Root (@TheRoot) June 25, 2018
Y'all don't see Yolanda Adams vibin' to @Migos! LOL! #BETawards pic.twitter.com/eSX3ZrB6hF

— Christina Watkins (@CWatkinsTV) June 25, 2018
i see you yolanda adams #BETAwards pic.twitter.com/fId023CIIX

— ashley… that's me! ?????? (@ashykneee) June 25, 2018
Yolanda Adams said while the Lord is fighting her battle, she's gonna ride out #BETAwards pic.twitter.com/BqRxhPIIlf

— Tris B (@mstrilliviapope) June 25, 2018
Look at Yolanda Adams singing to Stir Fry ?? #BETAwards pic.twitter.com/kV7UcAGNfX

— Saint-Li (@SaintCointe) June 25, 2018
We gonna ignore Yolanda Adams singly along to Stir Fry orrrrrrr… #BETAwards pic.twitter.com/ed6qrCmWn6

— A.D. Jarvis ?? (@TattleTav) June 25, 2018
Yolanda Adams enjoying the Migos performance before the camera exposed her. #BETAwards pic.twitter.com/aBIxjoF7JK

— Backdoor Santa (@Marcus_Sniffles) June 25, 2018
Yolanda Adams was back there singing along to Stir Fry lmaooooooo relatable gospel queen

— poison iv (@ErYeezy) June 25, 2018
https://twitter.com/HarrisandKaliya/status/1011048048905146368
Yall im dead YOLANDA ADAMS in the audience rapping while the migos perform ??

— ????? (@ShakeSum_) June 25, 2018
Addendum: Watching Yolanda Adams sing along to Migos' Stir Fry performance is why the #BETAwards matter lol

— Sylvia Obell (@SylviaObell) June 25, 2018