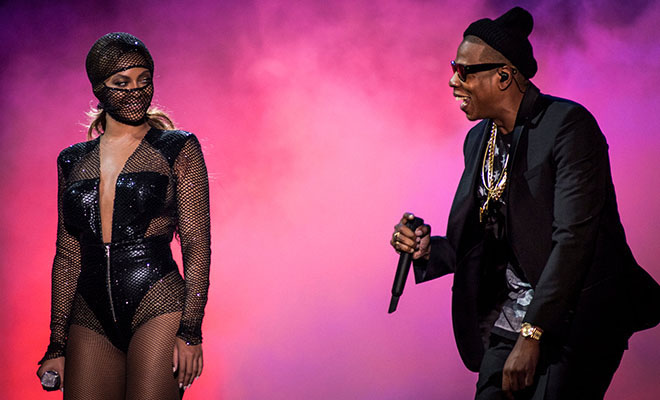 The most anticipated tour of the summer kicked off in Miami last night!
After performing separately on their own successful solo tours, Beyoncé and Jay Z have teamed up for their co-headlining "On The Run Tour," which was launched Wednesday night at Miami's Sun Life Stadium.
Thousands of fans packed into the stadium — which has a concert seating capacity of over 80,000 — to watch Hip Hop's most powerful couple run through 40+ songs during the two-and-a-half-hour show, which was inspired by their star-studded "Run" movie trailer.
According to our friends at Rap-Up.com:
A screen displayed "This is not real life" before the Carters emerged through the smoke.

"I need some gangster shit," said Bey before launching into "'03 Bonnie & Clyde." She donned a fishnet mask and leotard for the opening number, while Jay played her partner-in-crime in sunglasses and a black blazer.

They transitioned into "Upgrade U" and "Crazy in Love" and dueted on "Holy Grail" and "Young Forever." Bey was fierce as ever in her many wardrobe changes including a multicolor Atelier Versace bodysuit, cut-out leotard, and Vrettos Vrettakos red crystal catsuit.

They also sprinkled in never-before-seen footage from their wedding ("Young Forever") and Blue Ivy's birth ("Halo"). Jay Z spit a new verse on "Partition," while Bey covered Lauryn Hill's "Ex-Factor."

"We celebrate love tonight," said Jay-Z before kissing his wife in one tender moment.
The Carters' next stop will be at the Great American Ballpark in Cincinnati, Ohio Saturday (Jun 28), followed by concerts in Canada (Jul 9 in Toronto & Jul 27 in Winnipeg), Atlanta (Jul 15), Houston (Jul 18), Chicago (Jul 24) and L.A. (Aug 2).
Beyoncé & Jay Z's "On The Run Tour" wraps up August 5th in San Francisco, California at the AT&T Park.
Photos:
Videos:
Opening: '03 Bonnie & Clyde + Upgrade U + Crazy In Love + Show Me What You Got
Ring the Alarm
Drunk In Love
Holy Grail
Ex-Factor (Lauryn Hill Cover)
Part II (On The Run)
Young Forever (w/ Wedding Footage)
Halo (w/ Blue Ivy Footage)
Highlights
Setlist:
01. '03 Bonnie & Clyde
02. Upgrade U
03. Crazy in Love
04. Show Me What You Got
05. Niggas in Paris
06. Tom Ford
07. Run the World
08. ***Flawless
09. Yoncé
10. Jigga My Nigga
11. Dirt Off Your Shoulder
12. Big Pimpin'
13. Naughty Girl
14. Ring the Alarm
15. On to the Next One
16. Clique
17. Diva
18. Baby Boy
19. Haunted
20. No Church in the Wild
21. Drunk in Love
22. Public Service Announcement
23. Why Don't You Love Me
24. Holy Grail
25. FuckWithMeYouKnowIGotIt
26. Beach Is Better
27. Partition
28. Countdown
29. 99 Problems
30. If I Were A Boy / Ex-Factor
31. Song Cry
32. U Don't Know
33. Resentment
34. Love On Top
35. Want You Back
36. Izzo (H.O.V.A.)
37. I Just Wanna Love U (Give It 2 Me)
38. Single Ladies (Put A Ring On It)
39. Hard Knock Life
40. Pretty Hurts
41. Part II (On The Run)
42. Young Forever
43. Halo
44. Lift Off
Published