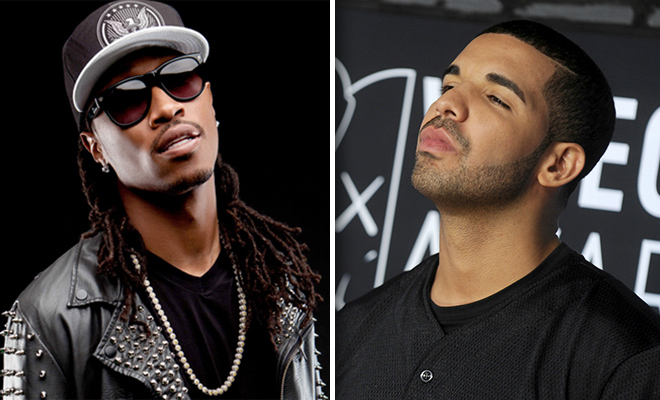 Drake and Future haven't always been the best of friends. If you'll recall, the two first fell out when Drake didn't show up to Future's "Tony Montana" video shoot.
Then it was the comment Future made to Billboard Magazine saying that the streets feel him more than the YMCMB rapper, causing Drake to temporarily drop him from his "Would You Like A Tour?" tour.
But it seems despite their past beef, the two are always able to put their differences aside and make good music. In comes their latest collaboration "Never Satisfied," a track that will appear on Future's upcoming album 'Honest,' which is due in stores on April 22nd.
In the song, producer Mike WiLL Made It, Drake complains about never having money, while Future grumbles about women who are hard-to-please.
"No matter what you do, it's never enough / I don't understand these bitches, Drizzy," Future says.
"Time after time after time, money's all I get and still money on my mind … But I ain't never satisfied. Yeah, I ain't never satisfied," remarks Drake
LISTEN TO FUTURE & DRAKE'S "NEVER SATISFIED" BELOW: