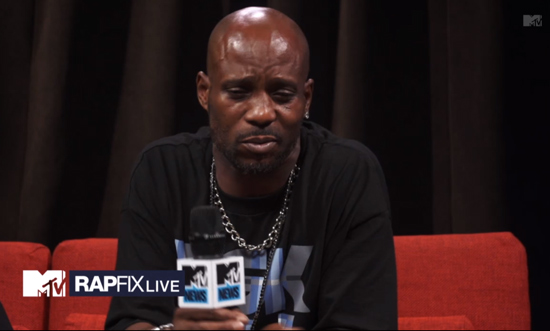 You know something, we really give DMX more credit than he deserves. Yes, he was hot for a second in the '90s, but DMX put out about 2 and a half good albums throughout his whole career. But we got this cracked out fool thinkin' he's a living legend.
DMX has been on a tear in the media dissing Drake left and right.
Drake, who's also embroiled in beef with Chris Brown, has yet to comment on DMX's mad tirades like he did when he was beefing with Common. That's probably because Drake knows that 90 percent of the words that come out of DMX's mouth is just the crack in his system running the show.
But now DMX is claiming that his disdain for Drake extends beyond a dislike for Drake's music stylings, and actually has more to do with how Drake is handling the production of Aaliyah's soon-to-be-released posthumous album he confessed to MTV RapFix.
DMX and Aaliyah worked together briefly while they filmed the "Romeo Must Die" movie and recorded a song for the film's soundtrack.
So that definitely makes X an authority on all things Aaliyah. How could Drake not recognize DMX's position at the Dana Haughton throne?
Here were the exact bitter words X used to describe the situation:
"Drake," DMX blurted out while "RapFix" host Sway Calloway was still mid-sentence. "He has talent, but it's kinda redundant, it's kinda the same all the time to me personally. It's an annoying sound," he said. X compared the Take Care MC's sound to a washing machine and mocked him while making a grating noise.

"I'm kinda feelin' some kinda a way about the fact that you been commissioned, that you been blessed, you've been given the opportunity to do the Aaliyah album yet you don't include anybody that she worked with personally," X said of his fallen friend, past musical collaborator and "Romeo Must Die" co-star.

"How do you disregard what this woman did? What this beautiful angel did and say, 'Oh OK, I'm gonna take it for myself because I'm hot right now and I'm feelin' myself,'" he asked rhetorically. "How do you just go there with it? Your balls ain't that big, son."