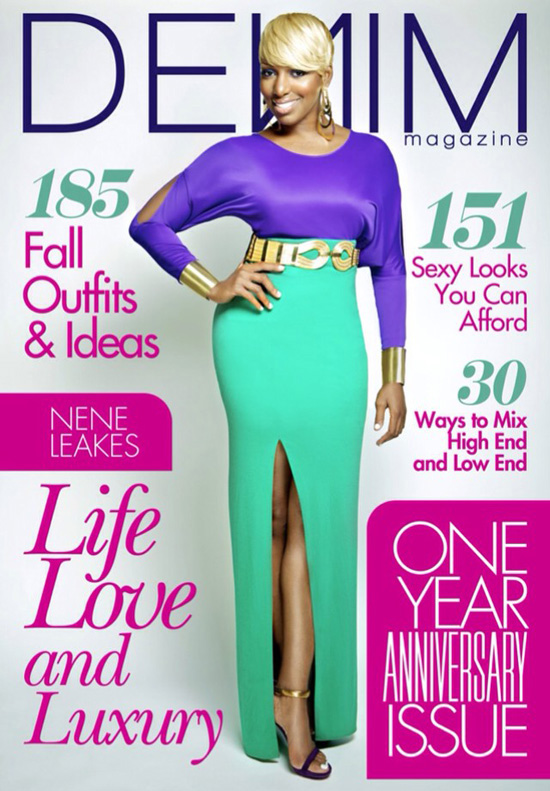 NeNe Leakes is making big moves these days! After getting her start on Bravo's hit reality show "The Real Housewives of Atlanta" … Leakes has gone on to become a household name, with recent gigs on NBC's "Celebrity Apprentice" and "Glee," as well as her snagging a starring role on the new NBC show "The New Normal."
And she also recently signed with a new global licensing deal with a company that will help her launch a line of clothes, beauty, hardware and jewelry in department stores all over the country.
But in addition to the new businesses and TV show gigs, NeNe also has new friends.
Inside Denim's 1-year anniversary issue (which she covers), NeNe dishes on her new life in Hollywood, and her new circle of celebrity friends, including her new bestie Kim Kardashian, who she hung out with (along with Kim's boyfriend Kanye West) during 4th of July weekend in Atlantic City:
Denim: So, we've seen you out a lot with Kim Kardashian. Is she your newest friend?
NeNe: "Yes"

Denim: It's been said that you all have a good friendship, how do feel about her relationship with Kanye West?
NeNe: "I'm very supportive of it. I was just with her and Kanye on the 4th of July weekend. We went to Atlantic City to see him perform and I'm supportive of her finding love. I think he is a great match for Kim, I think he is going to hold Kim down. And they actually look very cute together, yea!"
More pics from the photoshoot (and a behind the scenes video) are below: