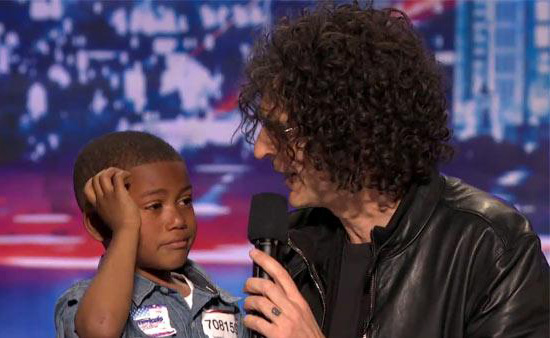 Controversial radio shock jock Howard Stern was actually doing pretty good at his new gig as a judge on "America's Got Talent" … until he made a little kid cry, that is.
When Mir Money (pronounced "Meer Money") — a 7-year-old rapper from Philadelphia — hit the stage, he had the whole crowd cheering and moving to his song … but Howard Stern wasn't impressed, as hit he hit his red 'X' button after only a few seconds.
About a minute later, Sharon Osbourne hit her 'X' button and the youngster stopped his performance.
"Are you angry?" asked Howie Mandel. "No," Mir said as Nick Cannon came on stage to give him a drink of water.
Within seconds, the little boy was in tears as Howard Stern tried to console him and explain why he buzzed him.
"First of all, you're a very nice man, you know that … No one likes hitting the 'X' on a 7-year-old. You're very brave to get up there at 7 years old," Stern said as Mir Money broke down into tears.
At that point, the entire crowd was booing and host Nick Cannon gave little Mir Money a hug, jokingly calling Stern a "mean man."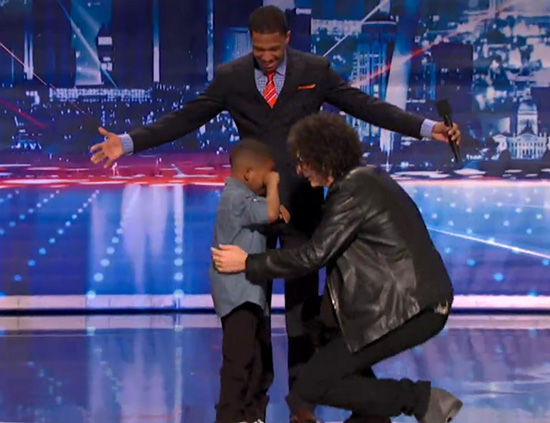 After seeing how upset the kid was, Stern then approached the stage, saying, "I'll fix everything." When he got to Mir Money, he leaned over and gave him a hug. "I'm so sorry. … You're a terrific young man. You are so brave," Stern said. "This job is too rough for me. I don't really want to do it anymore."
He continued, "I don't want to make you cry … I've met many of great rappers … none of them are quite as great as you," and he quickly made up with the young man. "Are we cool?" he asked, and Mir nodded, "Yes."
Questioning his decision to take the judging gig, Stern later told Nick Cannon, "I'm not cut out for this, man. I'm not cut out for it. I'm shaking man, I'm shaking. I can't do it, man. I can't do it."
Watch the clip below: