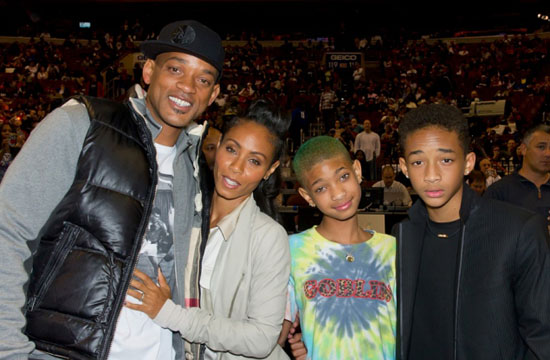 With rumors swirling around that their marriage is on the rocks, Will Smith and his wife Jada Pinkett Smith were spotted enjoying each other's company as they hung out with their two young kids Willow and Jaden Smith at the Sixers-Heat game in Philadelphia Friday (Mar 16).
The couple — who have been married since 1997 — reportedly arrived around halftime, and were met with a round of applause.
Attendees of the game say they even saw the pair kissing courtside, and at one point, Will and Jada showed up on the Jumbotron's famous kiss cam.
"They were having a good time," a source told People. "Will and Jada were introduced to the crowd to a loud cheer. She affectionately put her head on his shoulder and he affectionately touched her as they smiled."
More photos of the Smith family hanging out at the Sixers-Heat game are below:
Published