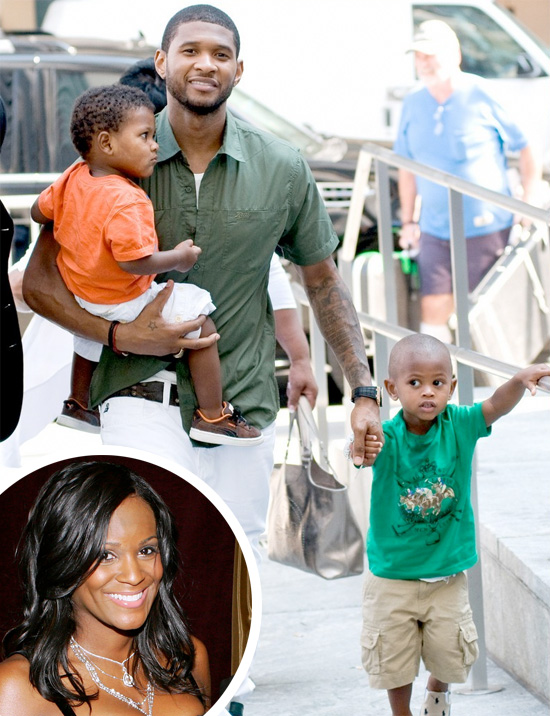 Tameka Raymond — Usher's ex wife who still uses his last name … for whatever reason — is dead serious about getting a judge to order the singer to take a drug test.
Right after filing court documents in Georgia asking a a judge to strip Usher of his joint physical custody rights, Tameka recently demanded that the R&B crooner take a drug test because she thinks he's "popping pills and who-knows-what-else" around their two young children, according to TMZ.
Usher has since refused to take the test, on grounds that Tameka's demands are "frivolous and unfounded" and her only intention is to "harass and embarrass" him.
But now Tameka's lawyers have taken the case back to the judge, and are pleading with the courts to force Usher to take the drug test, because she's afraid that if they wait too long, he'll have more time to clear his system of any illicit substances.
This woman is crazy, people. And apparently, she constantly uses the children against Usher, and even posts pictures of them on Twitter along with kooky captions trying to elude that the kids don't like to see their dad. As Sandra Rose pointed out on her blog last week:
Struggling celebrity stylist Tameka Foster is at it again. Earlier today, she posted Twitpics of her sons, Usher IV, 4, and Naviyd, 2, on their way to visit their father at his home in Los Angeles. Under one photo of a sulking Naviyd, Tameka's tweeted: "Navi is pissed to the bitter end. Haha. I'm sure candy, toys and Neverland awaits … He'll be ok. My loves!"

Apparently, she meant that Naviyd was sulking because he did not want to see his dad. Once again, Tameka continues to shamelessly exploit her own children for sympathy and attention.
And not only that, while Tameka is going around trying to make it seem like Usher is a bad parent, it sounds like she's the one who is a bad parent. Sandra Rose continued:
Yesterday I spoke with a family friend who begged for anonymity. The source revealed juicy information about Usher and Tameka's ongoing child custody battle. He confirmed that Usher gets the boys more often than Tameka because he simply does not believe she is a fit mother.
Check out some of Tameka's most recent tweets below:
[blackbirdpie url="http://twitter.com/#!/TamekaRaymond/status/142248494848151553″]
[blackbirdpie url="http://twitter.com/#!/TamekaRaymond/status/142249277765337089″]
[blackbirdpie url="http://twitter.com/#!/TamekaRaymond/status/142297398302093312″]
[blackbirdpie url="http://twitter.com/#!/TamekaRaymond/status/143127177016254464″]
[blackbirdpie url="http://twitter.com/#!/TamekaRaymond/status/143126461837090816″]
[blackbirdpie url="http://twitter.com/#!/TamekaRaymond/status/143125660779552768″]
[blackbirdpie url="http://twitter.com/#!/TamekaRaymond/status/142248494848151553″]
[blackbirdpie url="http://twitter.com/#!/TamekaRaymond/status/143124932468031489″]
[blackbirdpie url="http://twitter.com/#!/TamekaRaymond/status/142621554658918400″]