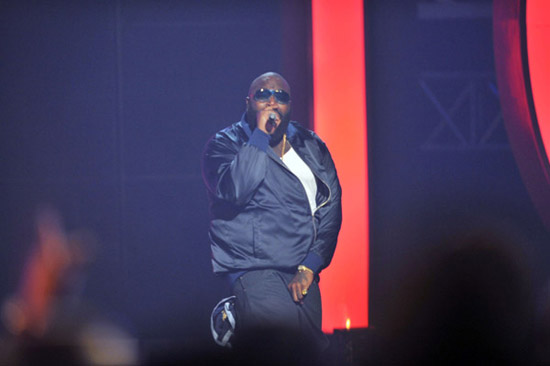 Maybach Music Group's biggest artists — Rick Ross, Wale and Meek Mill — graced the stage of the 2011 BET Hip-Hop Awards, which were held earlier this month (Sat. Oct 1st) in Atlanta at the Civic Center, and aired last night (Tue. Oct 11th) on BET.
90's R&B crooner El DeBarge, who has recently been making a comeback and popping up at almost every BET awards show, opened up the performance by singing the intro the "That Way," which lead into Wale's appearance, followed by fellow MMG newcomer Meek Mill, who performed his single "I'ma Boss"
With flames in the background and to much fanfare, MMG's head honcho Rick Ross joined his artists on stage, asserting his status as a "Bawse" as he rapped along to his verse on Meek Mill's song.
Watch MMG's BET Hip-Hop Awards takeover below: