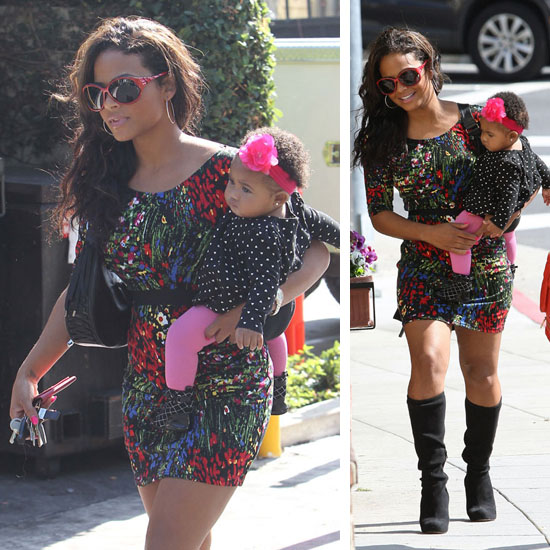 Christina Milian looked to be in a cheerful mood as she and her 7-month old daughter Violet Nash were spotted leaving Cafe Med Restaurant in Los Angeles last Thursday afternoon (Oct. 7).
And if you're wondering how Christina lost all of her baby weight, continue reading below (after the pics)!
The 29-year-old R&B singer told UsMagazine that her mother Carmen helped her lose some of the 45 pounds she gained while she was pregnant with Violet. Milian says her mom also helped her get through her split from Violet's dad, The Dream.
The first month, I lost weight drastically," said Milian, who gave birth in February (she told Us in April that she's dropped 27 lbs.). "On top of that, she cooked me a lot of raw vegetables and raw salads and proteins — and it worked! I also drank a lot of water."

She also credited her mom with helping her bounce back after her split from her baby's father, producer The-Dream. "I have a very supportive family, so between my mother and my sisters, they are helpful," she told Us. Her daughter is doing "great," said Milian. "She's wonderful, as happy as ever, and she's growing her first two teeth. She is so adorable."

Her baby girl is already talking. Sort of. "She said, 'Mama,'" Milian told Us. "It was a joy. I was so excited because I wasn't expecting her to do it. We said, 'Say mama,' and she said it!"
Lookin' good Christina!! The Dream doesn't know what he's missing out on…