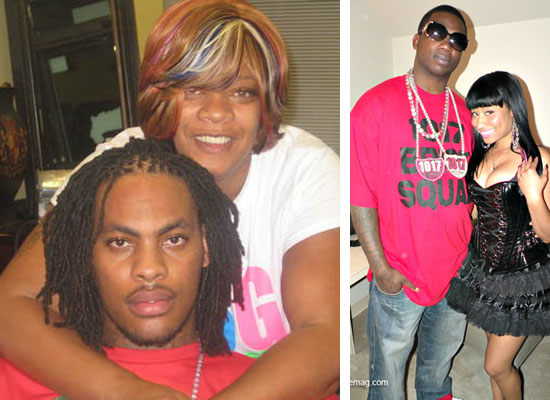 Waka Flocka Flame's notoriously outspoken momager Debra Antney is pissed …. again. This time the focus of her anger is being directed towards VIBE Magazine, who she accuses of misquoting her rapper son/client in a recent interview.
Yesterday we posted quotes directly from Waka Flocka in which he talked about his relationship with Gucci Mane and Nicki Minaj following the both of them firing his mother as their respective manager. When asked if the split affected his relationship with Gucci, Waka was quoted as saying: "Yeah, all the way… All the way. I ain't got beef or anything but it has changed. There is [no relationship]. We don't talk anymore."
Now Debra Antney says she's pissed off at VIBE and feels as though they misquoted her son.
Continue reading to peep what she told All Hip Hop:
"This is what I have to say to Vibe magazine. I am really kind of pissed off at you, for twisting the words up of Waka of the stuff he said," Debra Antney told AllHipHop.com. "Like he [Waka] don't mess with Gucci, no he hasn't spoken to him in a minute. Y'all stop using the s**t of what happened, like Gucci fired me.

"Things change, people went their separate ways and moved on. That doesn't' mean you got a goddamn beef," Antney fumed to AllHipHop.com. "Everybody's cool and alright. I think people need to get their s**t straight. People don't have anything better to do than run around with this negative s**t, then all you little a**holes get together and join in, like y'all know so much."
Damn, tell 'em how you really feel Deb! Doesn't she remind you of a Sonja Norwood/Mathew Knowles/Joe Jackson fusion on steroids or something?? (LOL!!)