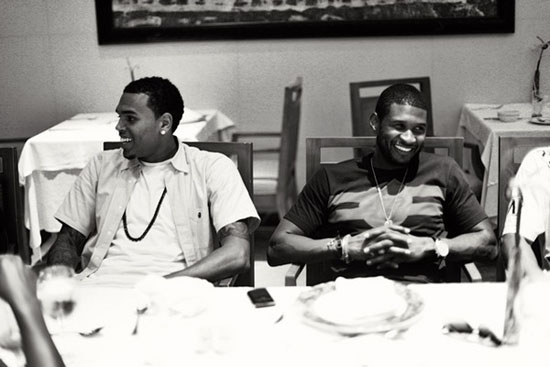 Singers Usher and Chris Brown are BFFs now it seems, and now they're making music together!
Reggae Sumfest organizer Johnny Gourzong talked about how much he enjoyed having Usher headline International Night 2 of the annual Jamaican music festival Saturday night (Jul 24), and said that the R&B singer's performance last weekend would go down as one of the best in the history of the event, which is celebrating its 18th year. He also revealed that Usher and Chris Brown recorded a song together at a studio in Montego Bay that very same weekend.
"Despite the rain, Usher pulled out the crowd on Saturday night … and he is so easy to work with," Gourzong said. "You know, there are some international acts who are just so difficult to host. They want to leave the island as soon as the show ends; well …not Usher. He stayed on and he has had a great time in Jamaica. He likes ox-tail and jerk chicken and he was just enjoying the island."
Usher's young friend Chris Brown headlined International Night 1 Friday night (Jul 23), and also appeared on-stage with Usher during his set the following evening for a dance-off (view Pics here). And after the festival, Usher and his friends stayed in the city and partied the night away at Pier One.
"He said he wanted to go somewhere local and we took him to Pier One where he danced up a storm! Usher was teaching Robert (Russell) some dance moves and Robert in turn was teaching him some of our moves. I can't really say how that one worked out," Gourzong laughed. "And it was a pleasure having Chris Brown as well. It was great to have them both on stage on Saturday night. That was a first."
Usher and Chris Brown making music together? Sounds epic!! Wonder what they recorded…