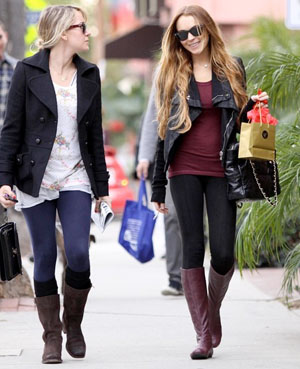 Well it appears a punch to the face wasn't the only thing troubled actress Lindsay Lohan received for her birthday celebration!
Nearly a day after Lindsay was attacked by a waitress at a nightclub in L.A. for hanging out with actor Doug Reinhardt, the former Disney star was pulled over by the cops outside of a restaurant where she was having her birthday dinner. However Lindsay wasn't the one who was the center of attention… it was her assistant Eleonore!
Eleonore was cited for running a stop sign, having covered license plates and tinted windows. To show how much Lindsay wasn't in the wrong, the cops let her leave and enter the restaurant as they dealt with her assistant.
That damn Lindsay! Even when she isn't doing wrong, trouble follows, SMH…