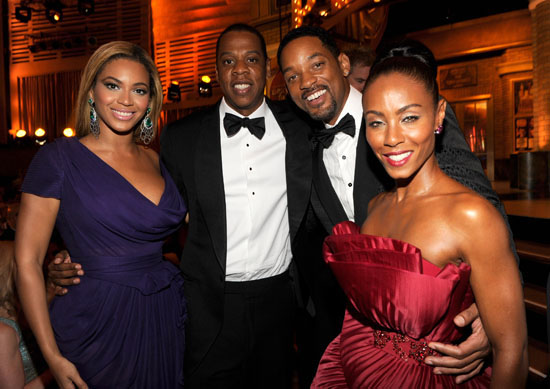 Looks like Jay-Z, Will Smith, and Jada Pinkett-Smith have achieved some success together!
The entertainment stars recently teamed up and produced a Broadway musical, "Fela!", which ended up getting nominated for 11 Tony Awards and won 3 of the highly respected trophies during last night's ceremony. The three categories in which "Fela!" won in were for "Best Sound Design of a Musical", "Best Choreography" and "Best Costume Design of a Musical."
"Fela!" focuses on the life and times of Nigerian composer and activist Fela Anikulapo Kuti, who battled against over 1,000 soldiers trying to stop his public performances at the legendary Lagos nightclub The Shrine.
Check out a few pictures of Will, Jada, Jay-Z & Jay's wife Beyonce at the 64th Annual Tony Awards Sunday (Jun 13) at New York City's Radio City Music Hall below…