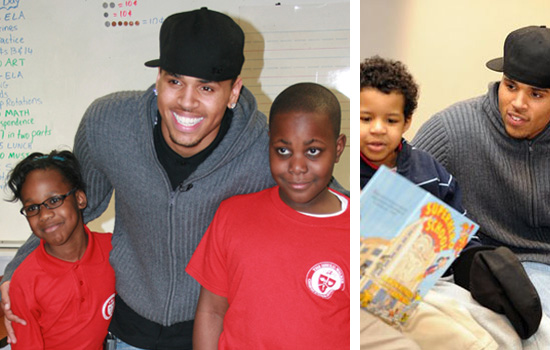 In an effort to promote the importance of literacy, young R&B singer Chris Brown paid a visit to the Sisulu-Walker Charter School of Harlem in New York City last Thursday (Mar 11), and read a book called "Superhero School" to a group of third graders at the school. The entertainer, who took a few pictures and signed some autographs following the reading, tweeted about the experience on his newly-launched Twitter account.
"Just left a school in Harlem reading to 3rd graders a book called superhero school. The school was a great experience… the kids were great, and i had a great time promoting the importance of literacy"
Chris later tweeted that he will be showing his appreciation to the U.S. troops by visiting military base Fort Hood sometime this week.
"Excited for next week. visiting fort hood. these troops risk their lives for all of us everyday. Im going to show my appreciation!!!"
Whether or not this is a ploy from his hard-working PR team to show off his "nice guy" image, it's still good to see him doing things like this. Go Chris!! Pics of Breezy reading to the kiddies below…