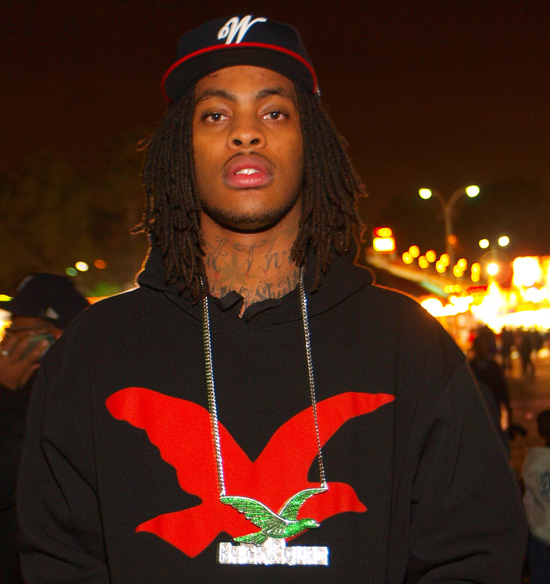 Not even a good week after news broke that Waka Flocka Flame had been involved in an altercation involving guns/shooting at a clothing store in Atlanta comes information about a concert shooting and you guessed it … Waka Flocka's name is attached to it! In fact, this "concert shooting" happened exactly one day after the shooting in Atlanta (wow…)
Several teens were shot Friday night (Mar 5) following a concert headlined by the rapper at a skating rink in Gary, Indiana. Reports indicate that gunmen opened fire on about 200 teens who were waiting on their rides outside the venue. 8 teenage boys, aged 14 to 18, suffered non-life-threatening injuries according to police.
Gary Police Cpl. Gabrielle King said Saturday "all chaos broke loose" when a fight erupted during the event. Security workers ordered attendees to leave the rink at 4415 W. 5th Ave. As of Saturday night, no arrests had been made.

"All the kids scattered and got as low as they possibly could," said Sisson, who also serves as the head security guard for the business. "Our kids are kids. They're teenagers that came to a venue and saw a rapper perform and then went home. As far as I'm concerned, my kids have nothing to do with what was going on."
Police say a hype man who came out before Flocka pitted the "East Side" vs. the "West Side" and may have caused the shooting incident outside the skating rink.
"The kids have separated themselves into east and west sides," Mallet said. "They've been doing it for many years now, but it's gotten worse, especially when you have entertainers making references to East Side vs. West Side. The youth in our community have taken it to heart." Sisson said security is strict to enter World of Skates. All entering patrons are searched for firearms, knives and other weapons. Certain types of combs aren't even allowed inside the venue because they could be used as weapons, Sisson said. On Friday night, seven Gary police officers, along with seven security guards, were working the concert. An owner for the Posh Lounge, Andre Ivey, was inside when the shooting occurred but he did not believe a fight broke out.

"I don't think there was a fight," Ivey said. "Sometimes kids argue. Before it gets to be a fight they do get put out … even though there was a lot of police presence you can't stop anybody from pulling out a gun and shooting. Just to shoot someone randomly, that's sickening." Gary Police Chief Gary Carter was told there were two shows on Friday, one for kids, up to the age of 18, followed by an adult party. But the kids show started late, so the two groups intermingled, Carter said.

"You can't mix the two," Carter said. "It was a bust."

SOURCE