** UPDATE: APPARENTLY THE BULLET HIT HIS LUNG. CLICK HERE FOR MORE INFO **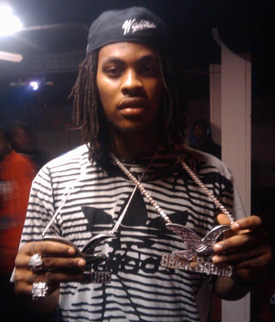 Up and coming southern rapper Waka Flocka Flame is currently recovering in his hometown of Atlanta, GA after being shot at a local car wash. According to police, Waka Flocka (real name: Juaqin Malphurs) was washing his car at the Bubble Bath Car Wash Tuesday afternoon (Jan 19) when he was approached by a man with a gun demanding his jewelry.
"A scuffle broke out, then shots were fired," Fulton County police spokesman Sgt. Scott McBride said. Malphurs was shot in the arm, and taken to a nearby hospital. The suspect fled the scene, going south along Old National Highway, McBride said.

SOURCE

Police are looking for a black man in his early twenties with a tattoo of a dollar sign on his left cheek and tattoos of two circles, three squares and two more circles between his eyebrows. He was wearing a white tank-top (aka "wife beater" shirt), blue jeans and red underwear at the time of the incident.
Flocka, 23, is affiliated with Gucci Mane's "So Icey Entertainment" and is most famous for his latest song "O Let's Do It." Continue reading for the official music video.
** UPDATE: APPARENTLY THE BULLET HIT HIS LUNG. CLICK HERE FOR MORE INFO **